FSL Snowflakes Ornament Covers
The FSL Snowflakes Ornament Covers is a set of 24 Freestanding Lace Machine Embroidery Designs.
The designs are embroidered in the same way as all our ornaments, so please read the General Guidelines first.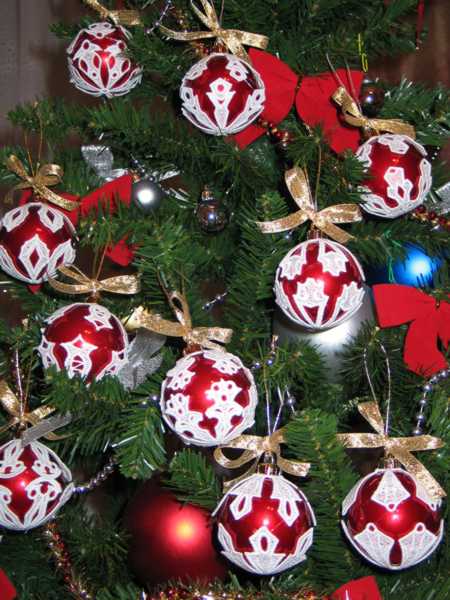 Some points to remember from the General Guidelines:
Use Vilene water soluble stabilizer;
Use the same thread for the needle and bobbin to get two-sided embroidery.
DO NOT embroider several designs in one hoop.
You will need Vilene water soluble stabilizer and embroidery threads, either rayon or polyester.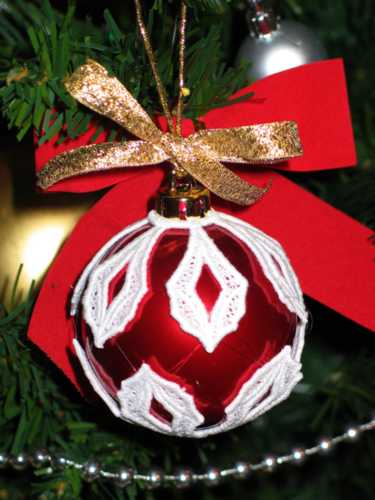 Step One: Each cover consists of two parts. Embroider each part once.
Use 2 layers of Vilene-type water-soluble stabilizer. Rinse the stabilizer and leave to air dry.
Impotant Note: It's very important to use as small a hoop as possible. E.g. if your design is for a small hoop, use the small hoop, not the large one; if your design is for a large hoop, use large, not mega. Do not try to embroider several freestanding lace designs in one hoop. This is because all water-soluble stabilizers stretch, and in a bigger hoop, it's going to stretch more. This can lead to the design falling apart after the stabilizer is dissolved. It's always better to embroider one part at a time.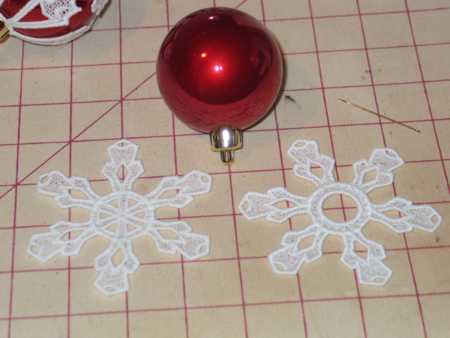 Step Two: Press all parts with steam. Place the parts onto the ball - the part with the large opening in the center should go on top, and the part without the opening in the center should go on the bottom.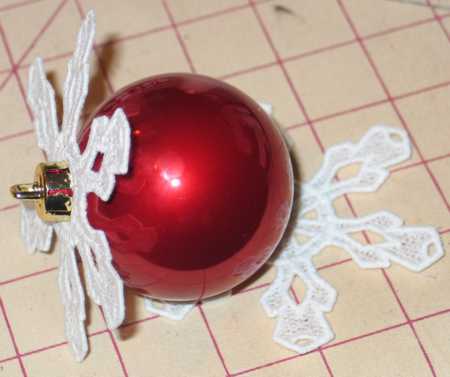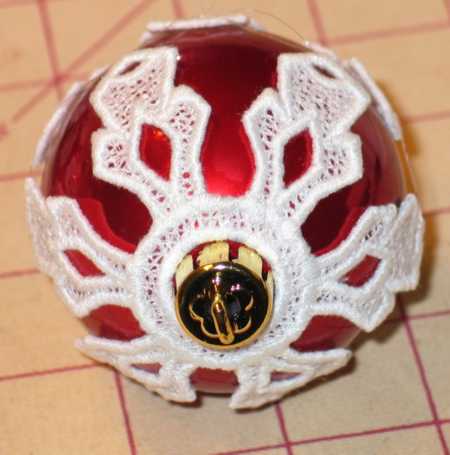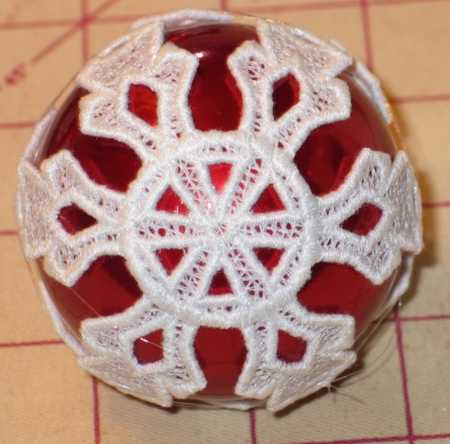 Step Three: Thread a needle with invisible thread and lace the parts as shown. This has to be done manually.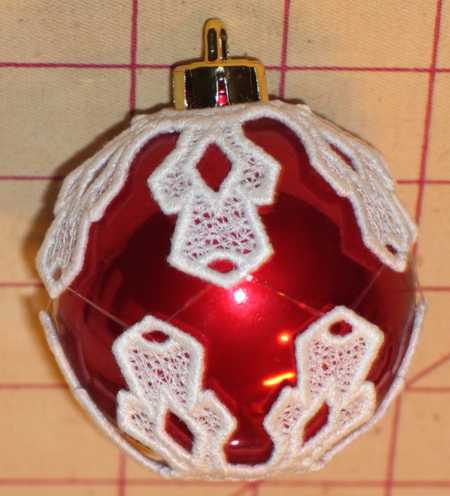 You can also use all sorts of ribbons, beads and tassels to lace and decorate the balls.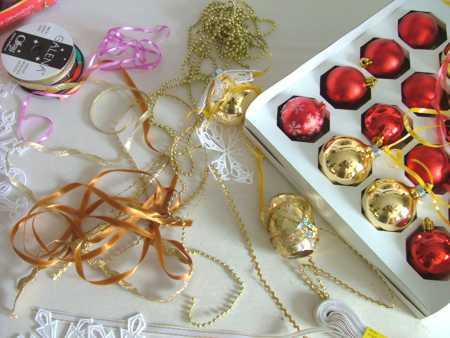 These parts were decorated with a golden zigzag trim first.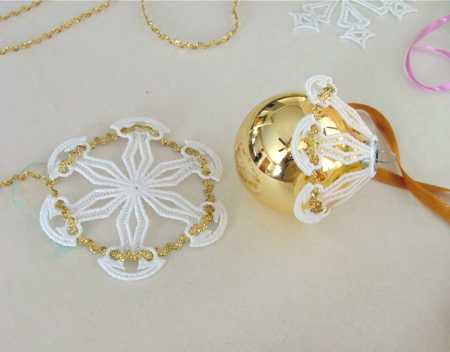 Then laced together with a string of beads... The number of variations is infinite! Let your imagination run wild.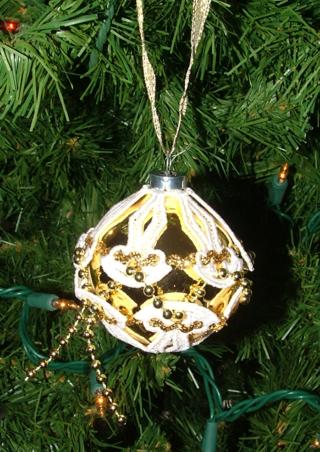 You can also use the covers as snowflakes...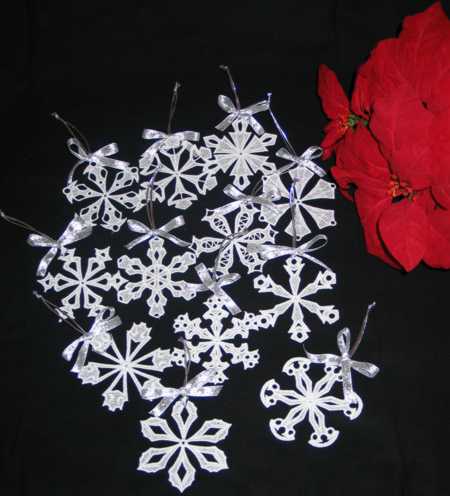 Or you can assemble them into interesting doilies to decorate your festive table.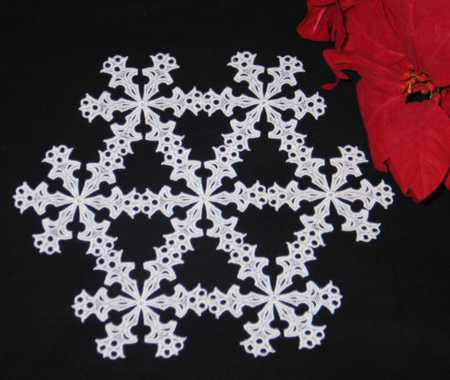 We hope that you like our ideas and will come up with many of your own.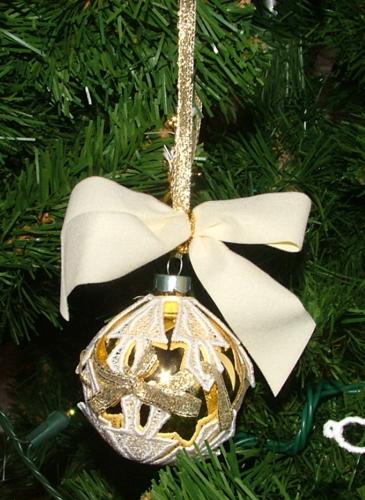 Back to FSL Snowflakes Ornament Covers Page
Back to Projects Page