Folk Flower Applique Set
This is some helpful information about the designs from the Folk Flower Applique Set. They are inspired by traditional European decorative stitching.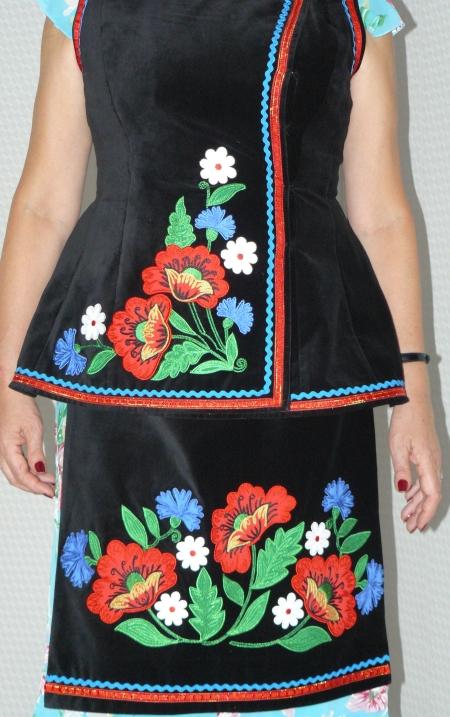 You will get 5 files called Fl1, Fl2, Fl3, Fl4, Fl5. Here are the screenshots of the designs:
You can combine the designs to get different arrangements.
There are also 3 bonus files called Bouquets 1-3 if you order the PES, DST and EXP formats. The files contain the above elements pre-arranged in different combinations. You can use these files if you have an 8" x 8" hoop or greater.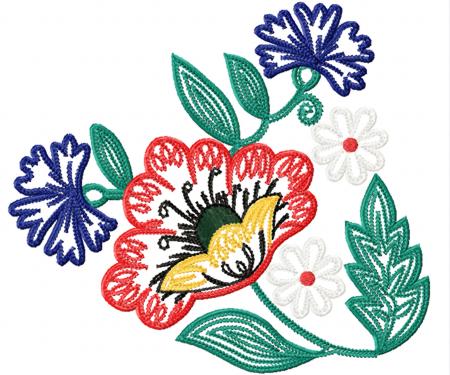 File "Bouquet1"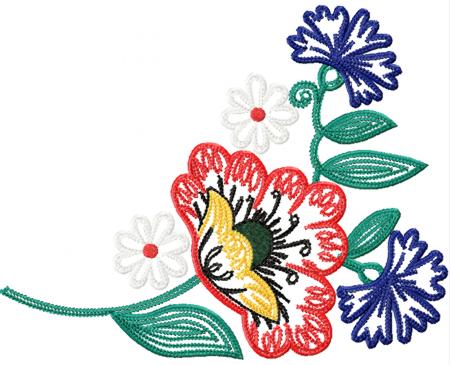 File "Bouquet2"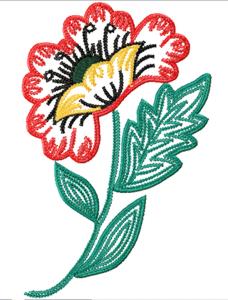 File "Bouquet3"
You can embroider the files as they are, or you can make applique. You will need base fabric, fabric for the applique, stabilizer and embroidery threads.
The general rules of embroidering applique are as follows:
Step One: Hoop the base fabric stabilized with the stabilizer needed for your project. We embroidered the applique on a light jacket and apron, so we used light-weight iron-on cut-away stabilizer.
Upload the file into your machine. Start embroidering. The machine will embroider an outline of the shape and stop.
Step Two: Place a piece of fabric over the outline, and start the machine. It will embroider the outline of the same shape again and stop.
Step Three: Take the hoop from the machine. With a pair of sharp scissors cut away the fabric around the shape as close to the stitches as possilbe. Return the hoop to the machine.
Step Four: If the design has more than one shape, repeat steps 1 through 3.
In the package, along with the embroidery files, you will get 6 .jpeg files called "Description". These files show the sequence of colors in the embroidery files. Please take a look at these files before you start embroidering.
Happy Embroidering!
Back to the Folk Flower Applique Set