Flower Dress for 18-inch Dolls
These are instructions on how to embroider and assemble the Flower Dress for 18-inch Dolls.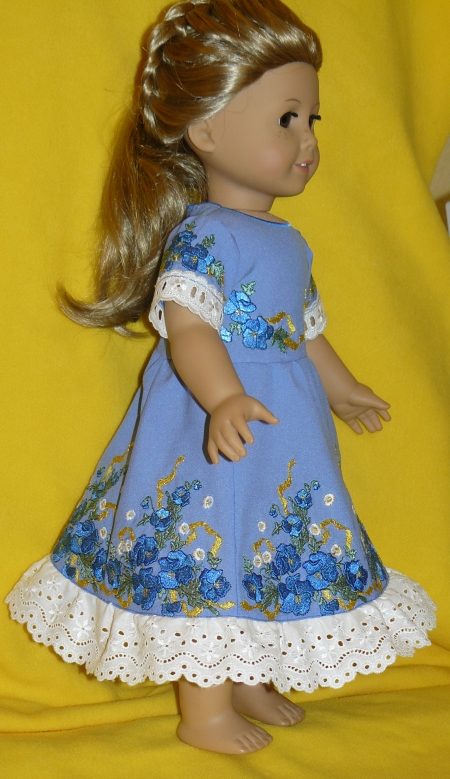 Click to enlarge
You will need fabric for the dress, choose light-weight not easily fraying fabric, such as quilting cotton, polyester and cotton/polyester blends.
Besides embroidery threads (either polyesyer or rayon), you will need water soluble mesh stabilizer, such as Fabri-Solvy by Sulky, Avalon Plus by Madeira, or similar.
We also used a 6"-long zipper, about 9" of 1"-wide lace for the sleeves and about 32" inches of 2"-wide lace for the skirt.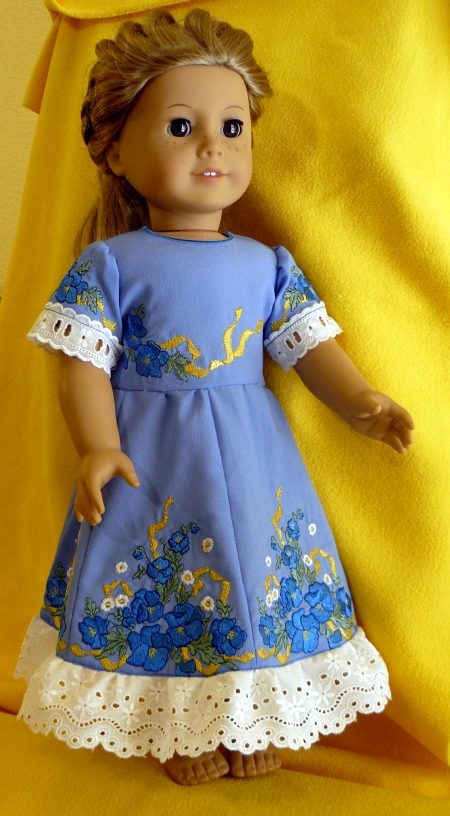 Embroidery:
Embroider the files Front, Back1, Back2, SleeveR, SleeveL once each. Embroider the file Skirt 6 times.
Cut out all stitch-outs close to the stitches as shown on the photo below. Cut away the stabilizer.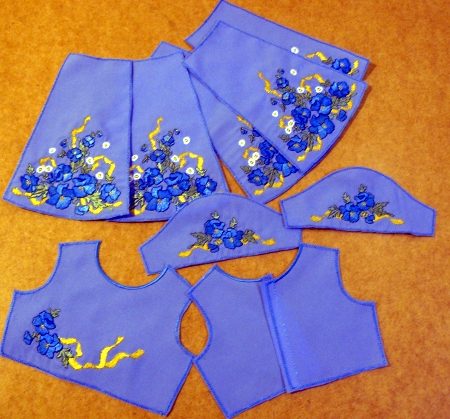 Assembly:

Take the stitch-outs of the bodice - Front, Back1 and Back2 - place the parts face to face. Align the shoulders and stitch with 1/8" seam alllowance.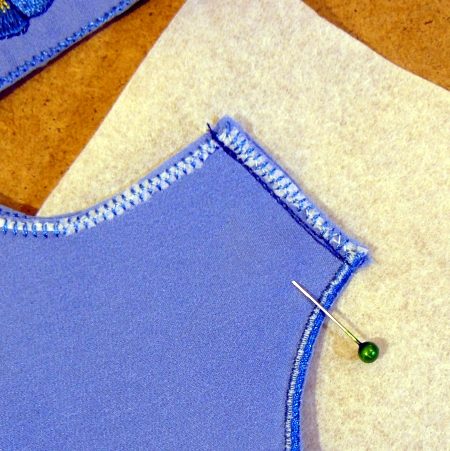 Open seams and press.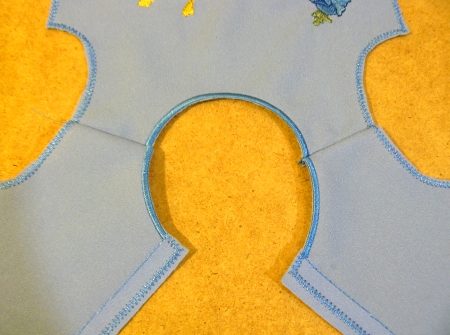 Sew lace to the sleeves.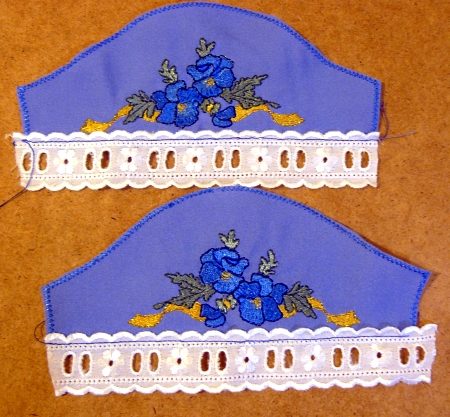 Baste the curves of the sleeves, pull thread to make small pleats. Sew the sleeves to the bodice.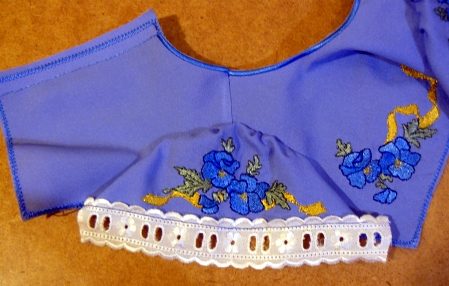 Turn the work with right side inside. Stitch the sleeve and the side seam with one stitch-line.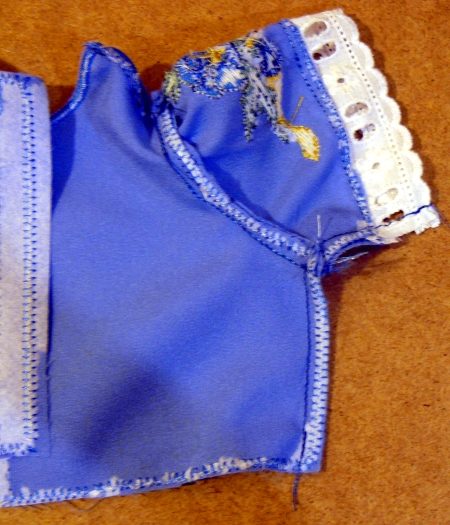 Stitch all 6 parts of the skirt together, but without connecting the first and the last parts together. Baste the skirt along the waist line.
Pin the the bodice and the skirt together. Stitch them together.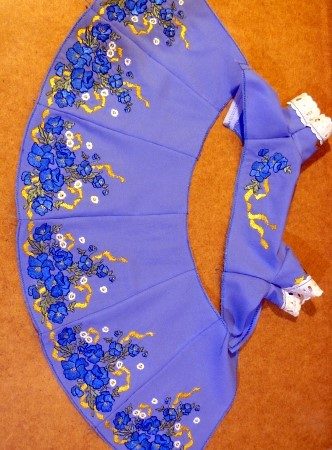 Sew the lace to the hem of the skirt.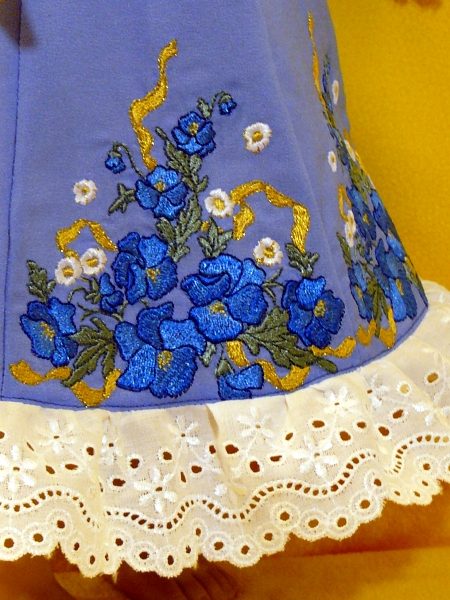 Turn the work wrong side out and align the unstitched edges. Measure the length of the zipper (6"-7") from the neckline down. Mark the place with a pin. Stitch the back together from the pin to the hem.
Sew in the zipper. Instead of zipper you can also use Velcro or snaps.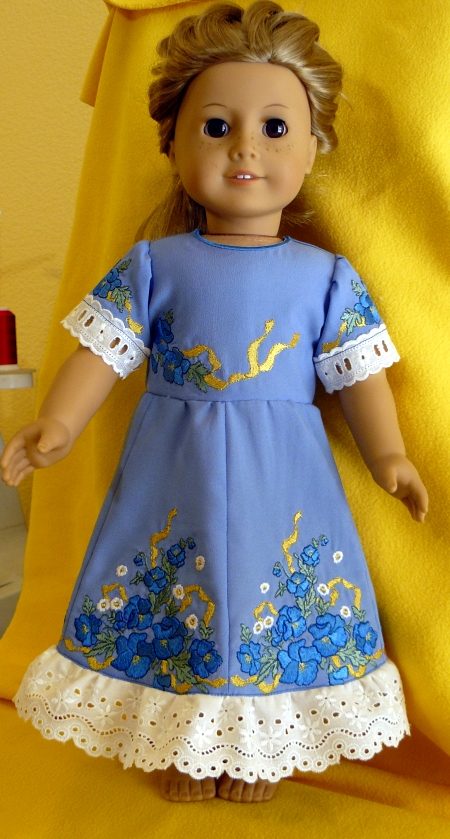 Enjoy!
Happy Stitching!
Back to Flower Dress for 18-inch Dolls.
Back to Projects Page