First Day of Spring Sale!
35% Off all our designs!
Shop Now
12 Days of Christmas FSL Lace Set
The 12 Days of Christmas FSL Lace is a set of 13 Freestanding Lace Machine Embroidery Designs. We assembled them into a beautiful wall hanging.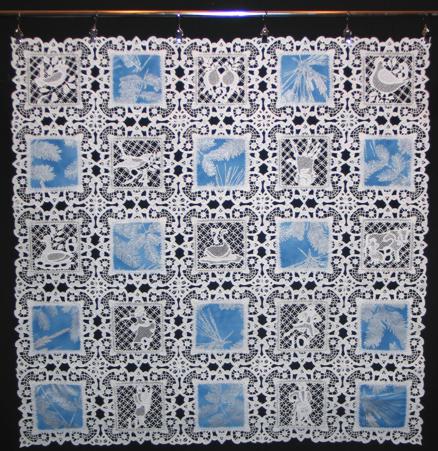 Click to enlarge
The finished size of the wall hanging is about 25 1/2" x 25 1/2". You will also need about 1/2 yard of fabric. We used sky blue batik with a silver pine branches pattern.
Step One: Embroider each file once. Embroider the file with the empty lace frame 13 times.
Rinse the stabilizer and leave to air dry.
Press all parts with steam.
Step Two: Working with one empty lace frame at a time, place them over the fabric. Pin in place. Machine stitch close to the inner edge of the frame. Work from the face side of the working piece.
With a pair of sharp scissors, cut away the excess fabric as close to the stitches as possible.
Return to your machine and zig-zag over the raw edge of the fabric from the wrong side.
Step Three: On your working table, lay out the designs.
The first row consists of Day 1, followed by a lace frame with fabric, then Day 2, another lace frame and Day 3. Manually join the squares in the places where the points meet.
The second row starts with the lace frame, followed by Day 4, another frame, Day 5 and another frame. Join the parts.
The third row is assembled like the first row, except that it features Days 6, 7 and 8.
The fourth and the fifth rows are assembled like the second row and feature Days 9 and 10 and Days 11 and 12.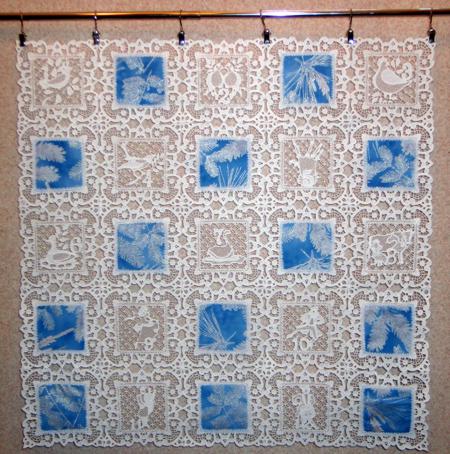 Step Four: Manually join the rows.
The wall hanging is ready! Enjoy!
Happy embroidering!
Back to 12 Days of Christmas FSL Lace