Embroidery Contest 2006
Entry # 4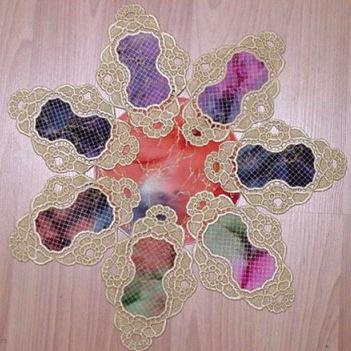 This participant used the designs from the Appliqué FSL Doily Set.
"I ordered the applique freestanding lace primarily because I've never seen the two combined. I did want a center piece which was not included in the design, so I made a circle to fit the 7 panels I sewed out. One edge of each panel was joined by machine with a tiny satin stitch in the same gold as the FSL. I tacked down the panels to the circle with invisible thread by machine, but left the top flower of each panel unsewn to give a 3D effect. The circle was finished with a decorative built in stitch on my Janome 6500 and a loose zig zag stitch on the circle border by machine. All the embroidery and applique was done on my Brother 2002D.

This doily was done for a gift exchange this November at my Janome sewing club. I included a long piece of the material I used so the recipient can make coasters or smaller doilies with the same material which graduates in colors. I hope the unknown recipient enjoys the colorful doily as much as I enjoyed doing it."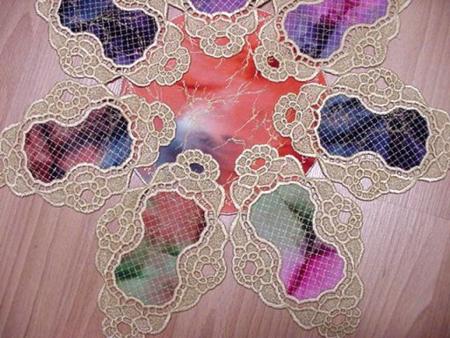 This is the back side of the doily: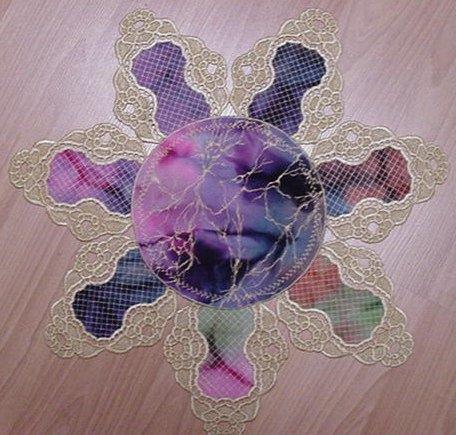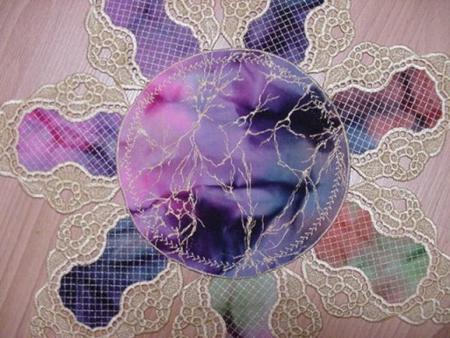 This is the batik which was used for the doily.

Back to the Contest Entries page