Embroidery Contest 2007
Entry # 3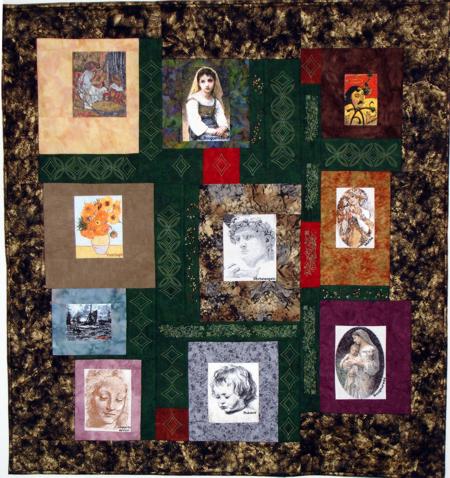 Click to enlarge
"We are taking our first ever trip to Europe in May 2008 for our 40th wedding anniversary, so I wanted to stitch a wall hanging of renditions of famous European artists so I can be inspired for the trip whenever I look at it. I used all photo stitch designs for the pictures, then machine embroidery quilted in the sashings. I purposely made the border asymmetrical, the embroidery was purposely not centered in some of the blocks, and I used border fabric to replicate a gold embossed frame. I then hand stitched various size beads in several of the sashings that weren't quilted. The overall size of the wall hanging is 42"x46" and hangs in my breakfast nook. I did the embroidery on my Brother 4000D and the piecing on my Pfaff 2140."
The contestant used the following designs from the Fine Art section:
Madonna and Child with Lamb by William Bouguereau
Meditation by William Bouguereau.
Caricature Self-Portrait by Paul Gauguin.
Head of Woman by Leonardo
David. Detail. by Michelangelo
The Entrance to the Port of Honfleur. by Claude Monet
Guitar Lesson. by Pierre-Auguste Renoir.
Twelve Sunflowers in a Vase by Vincent van Gogh.
Portrait of a Boy by Peter Paul Rubens.
Back to the Contest Entries page