Embroidery Contest 2008
Entry # 32
This contestant sent in pictures of a hooded sweatshirt she prepared as a Christmas gift.
Here is her story: "Attached is a picture of the hoodie that I embroidered for my dear sweet mother-in-law, Helen, for Christmas. She turned 87 years old this year and is still going strong. Mom has lived all of her adult life in Portland, Oregon and is moving closer to two of her children here in Fairbanks, Alaska. Knowing that she will be cold coming from such a warmer climate and moving to an arctic climate, I decided to make her a beautiful hoodie that she could wear with pride in Alaska. Fairbanks, Alaska cannot keep roses growing like this beautiful velvet rose that I've chosen to embroider onto the hoodie; it's just too cold at -60 degrees F for them to survive. So I chose the velvet red roses pattern so that Mom can enjoy her roses all year long. I would have loved to have Mom model this hoodie for you, but it's a secret from her and she isn't arriving in Alaska until a week before Christmas.
As for me, I am an avid machine embroiderer. I've owned an embroidery machine for the past twenty years. This year, I traded up to a Brother Innovis 4500D, which uses PES format. I am a housewife right now and enjoy the luxury of embroidering a great deal. My husband is a chef and he works at a remote site at Clear AFS. Between my creativity as a craft person and his creativity in the kitchen, we make a pretty good pair!"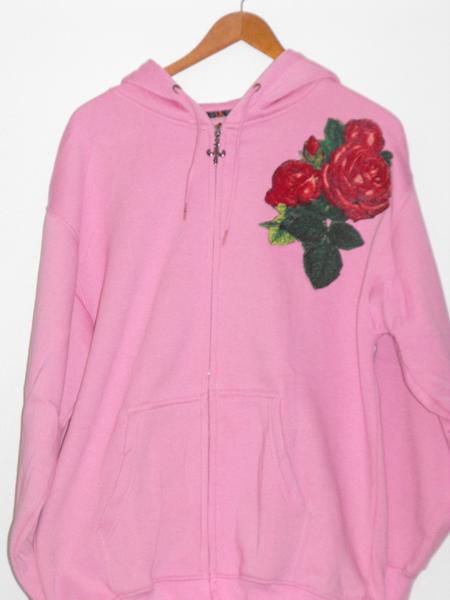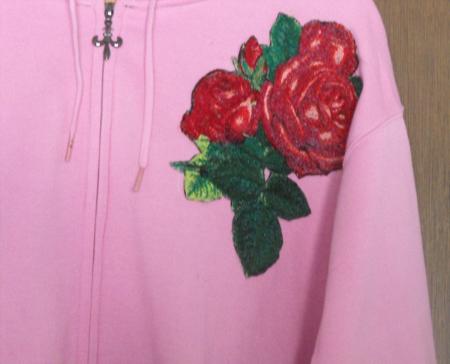 Back to the Contest Entries page