Embroidery Contest 2008
Entry # 37
This participant has sent in pictures of two towels. This is her entry and here is what she wrote: "I am doing this one in honor of my son who was killed in a car accident in 2005. He had many likes in his life and one was eagles. His team name at school was the Eagles and his room is decorated in wolves and eagles.
After he died I had to find something to help me think of something other then my loss and my friends in Alaska, Arizona, and Lousiana and my sis all helped me to learn this great hobby of embroidery. If it were not for them I would not know the fun of these designs you create through Advanced.
So in my spare time from being a registered nurse and working 12 hour shifts I have come to work with my two embroidery machines and I crochet the tops of towels for craft shows and to give away to friends. So on display in this entry is the soaring eagle with a crochet top on a towel with an American flag for the button and my second one is of a turkey with a turkey button, these are both towels that you can hang in your kitchen on your fridge, stove, bathroom, car seat, take with you while jogging, etc.
These towels were made on an Innov-is 1500d.
I live in wonderful Hot Springs, Arkansas, and when not at work I am in front of my computer and working with my machines."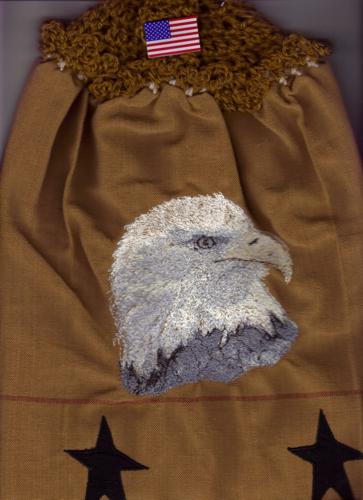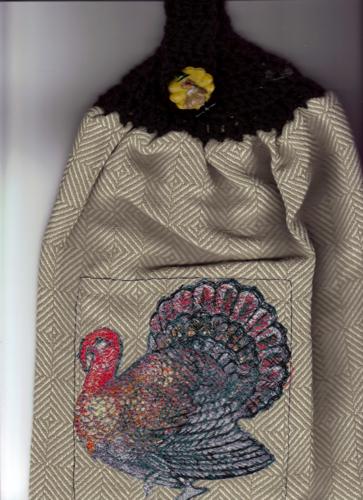 Back to the Contest Entries page