Embroidery Contest 2008
Entry # 58
This participant sent in pictures of the quilt he made for his step-son. Here is what he writes:
"I am a 56 year old disabled man who has been looking for a hobby. I began my interest in making quilts earlier this year when my wife purchased a Janome 10001 machine. I was fascinated with the embroidery. Even though I never sewed in my life, I decided to make quilts for my 4 grandchildren for Christmas. I couldn't stop there, so I decided to make quilts for all my family members (20).
This quilt I call "Go with Van Gogh". It is for my wife's oldest son, who is an Art major in college and will receive his BA in 2009. He is doing an internship with the Art Museum on campus. When I saw these designs, I knew they would be perfect to build a quilt around."
The embroidery designs are from Van Gogh's section of our catalog.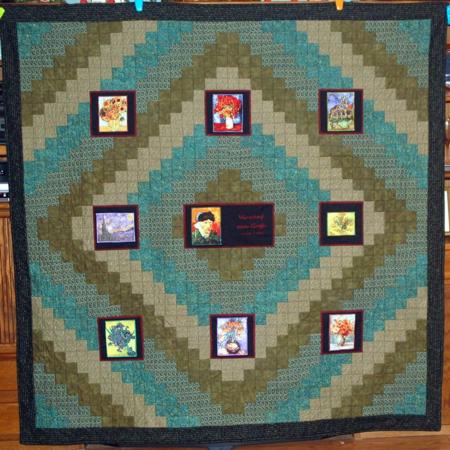 Click to enlarge