Embroidery Contest 2008
Entry # 61
This contestant writes:
"I made this framed Picture for my dear friend who I have known for over 30 years. The rose is from Advanced Embroidery. The other elements in the design are mostly recycled items.
The frame, I found in a second hand store, I crackled the paint to match the theme I was trying to achieve. And the Butterflies, I stole from one of my grandchildrens hair displays. Pearls and ribbons were from an old doll that I also found in a second hand store. Black fabric was found in my stash that I thought was lost :-) The script is one I downloaded from the internet and used through Font Engine in Embird. My Machine is a Viking Topaz 30."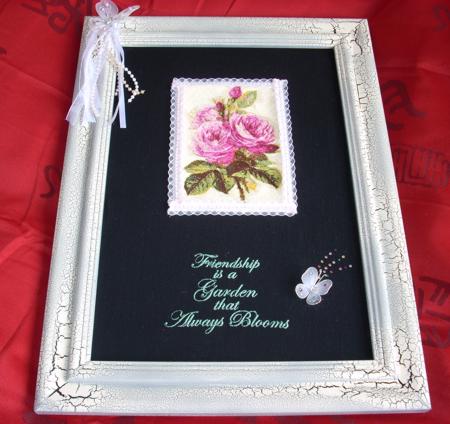 Click to enlarge