Embroidery Contest 2009
Entry # 1
The very first entry of the Best Project Contest 2009 is a quilt made by the paticipant for friends celebrating their 25th anniversary.
Here is what she writes: "The wife is of American Indian descent and several of the symbols on the quilt have special meaning to her culture. I wanted to use one strong color and used several fabric textures to piece each square so although all the fabrics are the same color the difference in the way light reacts with the textures shows off the different pieces of each block.
I used crushed velvet that was a knit fabric and fused interfacing to the back before
embroidery not only for the stability needed for the embroidery but also to make it act more as a woven rather than a knit. I also used satin for its reflective quality and a faux suede for the non reflective quality.
The matching shams have been monogrammed with the couples initials."
The project is made on a Brother 1200D machine.
The designs used are from Easter Quilt Block Set, Feather Quilting Set,
Mandala Quilting Set, Quilting Pattern Set II.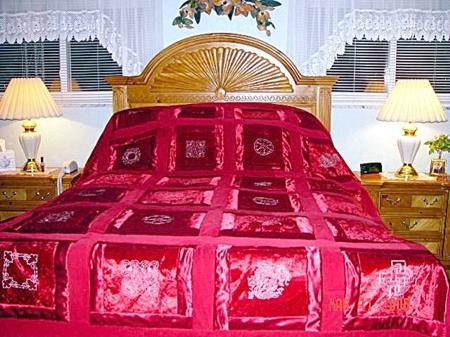 Click to enlarge