Embroidery Contest 2010
Entry # 2
This contestant writes:
"My version of the FSL Battenberg Lace Summer Hat II :)
When I first saw this hat, I just HAD to have it!
I already had lots of tan thread, and purple is my favorite color, so color choices were easy! I used a cotton thread, and by the time I was done, I had to take my machine in for a cleaning from the lint, but it was well worth it! I have a small head, so I was worried that it would be too big for me, but it was a PERFECT fit! WooHoo!
I did have a bit of trouble getting the brim to fit properly, but the wonderful people at AED helped me out wonderfully! A BIG thanks!
I used a Pfaff 2170 to make this. I LOVED it this summer at the pool!"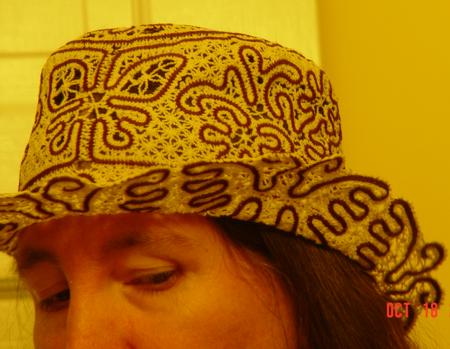 Back to the Contest Entries page