Embroidery Contest 2012
Entry # 2
"My best project for the year 2012 is called - Dancing With Swarovski
After watching so many tv dancing shows, I was surprised to see available through Advanced Embroiderys, so many different dancers. It was then I knew I just had to stitch a wall quilt using some of those designs.
Beginning with a neutral patchwork, I began stitching the waltz, the flamenco, the rumba and the salsa dancers to a flowing staff, complete with treble clef. I wanted movement and achieved that in the sparkle of the swarovski crystals. The dancers are dazzled with crystals, as well as the clef and a small border. I used a lot of different swarovski products to create the sparkle and give the illusion of movement. The dancer are causing the notes to shatter and fall to the floor below the staff. You can almost hear the music. I added a large border, again in a patchwork style and quilted the project with echo and free motion.
This wall quilt is 31-3/8 inch in length and 20 inches in height."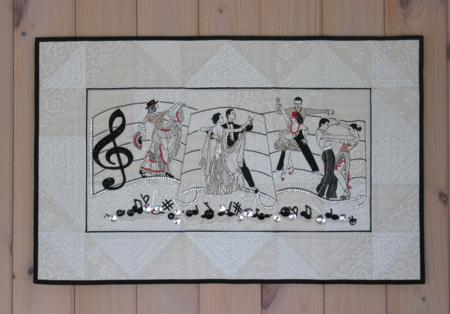 Click to enlarge