Embroidery Contest 2012
Entry # 25
Bear Paw - Native American Dance Sshawl.
"Design was created with "
Folk Flower Applique Set
". I've taken the design elements apart to create additional flowers. This is a 70 inch continuous design; using several hooping to achieve this look.
Traditionally the Native American woman is to wear regalia in the dance arena. If the woman does not have regalia on than she is to cover herself with a shawl or blanket inside the dance arena.
The Bear symbol has always been important to the Native people as it represented a protector and symbolized courage, physical strength and leadership."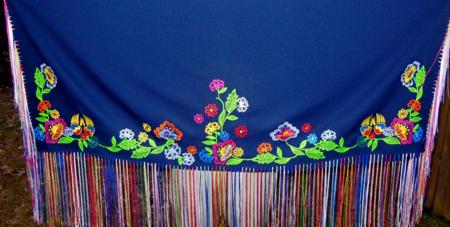 Click to enlarge