Embroidery Contest 2012
Entry # 7
This quilt was made as part of a fundraiser for a Kelly Family reunion. The quilter used a traditional Single Irish Chain pattern in shades of green and used the designs from the Shamrock Quilt Set to make a queen size quilt (100" x 110") . The ten different shamrock designs were machine embroidered on white fabric using Kelly green thread. A Janome Memory Craft 9700 was used for the embroidery. There were two borders: a narrow border in Kelly green with gold shamrocks and a wider light green floral border. The quilt was machine quilted and bound in plain Kelly green. A small label was machine embroidered for the back of the quilt, identifying this as the Kelly Family Reunion quilt and the date of the reunion.
The fundraiser was a success; the quilt helped to pay for expenses for the reunion, and a portion of it was contributed to charity.
The designs are from the Shamrock Quilt Set.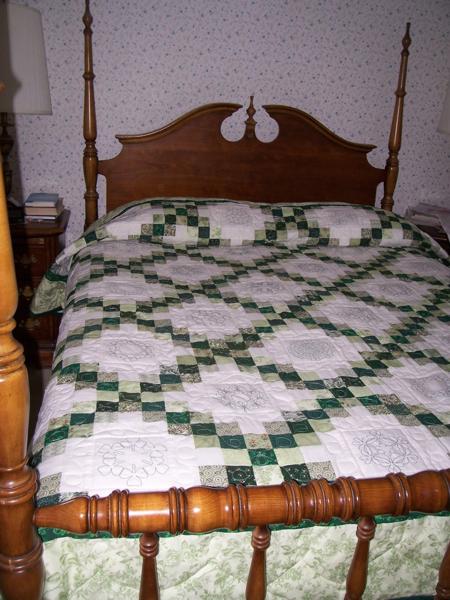 Click to enlarge