Easter Mother Hen Set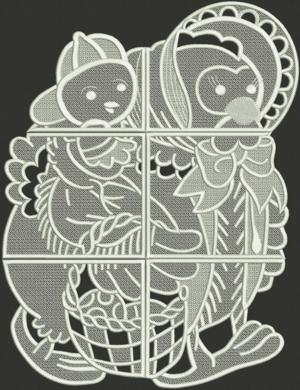 Set of 6 Freestanding Lace Machine Embroidery Designs
Available in 3 sizes: two for large 130 x 180 mm (5" x 7") and one for small 100 x 100 mm (4" x 4") hoops

Large Size:
Size: 116mm x 98mm (4.64" x 3.92")
Stitches: 19095
Colors: 1

Size: 150mm x 128mm (6" x 5.12")
Stitches: 31740
Colors: 1

Size: 139mm x 123mm (5.56" x 4.92")
Stitches: 31275
Colors: 1

Size: 139mm x 123mm (5.56" x 4.92")
Stitches: 36305
Colors: 1

Size: 139mm x 123mm (5.56" x 4.92")
Stitches: 27129
Colors: 1

Size: 137mm x 126mm (5.48" x 5.04")
Stitches: 28158
Colors: 1

Medium Size:
Size: 99mm x 84mm (3.96" x 3.36")
Stitches: 14956
Colors: 1

Size: 129mm x 110mm (5.16" x 4.4")
Stitches: 25456
Colors: 1

Size: 121mm x 106mm (4.84" x 4.24")
Stitches: 25223
Colors: 1

Size: 120mm x 107mm (4.8" x 4.28")
Stitches: 30571
Colors: 1

Size: 121mm x 107mm (4.84" x 4.28")
Stitches: 22310
Colors: 1

Size: 118mm x 109mm (4.72" x 4.36")
Stitches: 22776
Colors: 1

Small Size:
Size: 76mm x 65mm (3.04" x 2.6")
Stitches: 10084
Colors: 1

Size: 99mm x 84mm (3.96" x 3.36")
Stitches: 17450
Colors: 1

Size: 92mm x 81mm (3.68" x 3.24")
Stitches: 17178
Colors: 1


Size: 92mm x 82mm (3.68" x 3.20")
Stitches: 206964
Colors: 1

Size: 93mm x 82mm (3.726" x 3.286")
Stitches: 15576
Colors: 1

Size: 90mm x 84mm (3.60" x 3.36")
Stitches: 15830
Colors: 1

This set of machine embroidery designs is part of our Easter Freestanding Lace collection. It uses the Freestanding Lace technique. The designs is available for the Large hoop (5" x 7") and Small hoop (4" x 4").
$19.99
Embroidery Projects & Ideas
Hoop two layers of a Vilene type wash-away stabilizer and embroider all parts of the design.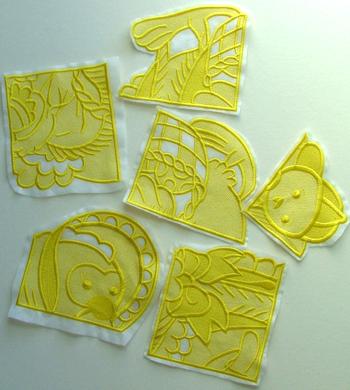 Cut away as close to the embroidery as possible and zigzag the parts together using invisible thread.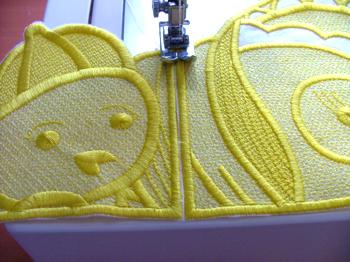 Rinse in warm water and leave to air-dry. Then press with steam.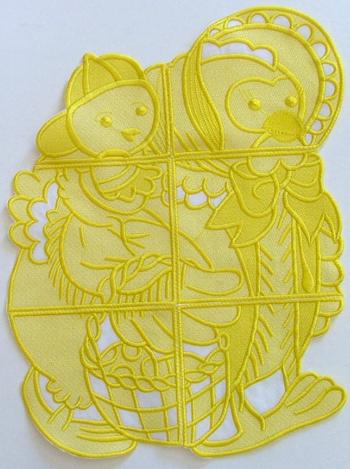 The ready design can be used as a placemat for a kid or as a window decoration.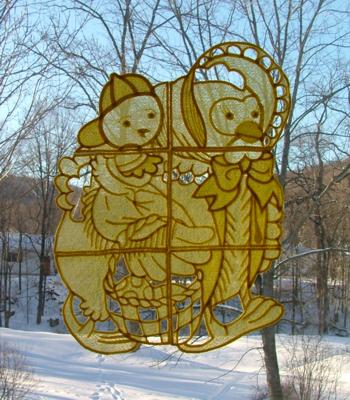 If you liked this design, you might also like:
Browse Similar Designs by Category: