Step-by-Step Guide to Creating Cutwork
Lace is very versatile and has a large variety of uses, from decorating linen and clothes to creating doilies and coasters. One of the most attractive ways to make use of your extra lace embroideries is cutwork. Firm, tightly woven fabrics which do not fray easily are essential for cutwork. You do not need stabilizer for these types of fabric. Just follow these four easy steps.
Step One: Stitch the design out without stabilizer. In this example we used a design from the highly popular Lace Doily Set.

Step Two: After you have finished the design, iron it and begin to cut out pieces of fabric between the embroidered areas. Use sharp-pointed scissors, it will be much easier.

Step Three: Make sure you do not cut the threads of the embroidery.

Step Four: When you are finished cutting, iron the design once more.
To test our quality and your skills try this free design: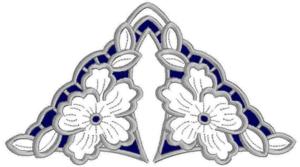 Size: 178/99mm, 7"x3.9"
Stitches: 9397
Colors: 1

Click to download a zip file containing the corresponding format:
Instead of cutting fabric with scissors, you can use Fiber Etch. One of our customers, Cheryl W., sent in her advice.
Check out more examples of cutwork using designs from our Catalog: