Easter Basket Napkin with Machine Embroidery
This wonderful napkin will certainly make your Easter baskets even more attractive... You will need an 18" x 18" piece of white, off-white or cream cotton fabric, an 18" x 18" square of colored fabric, about 36" of lace and water-soluble stabilizer (Solvy or Avalon). We used a design from the Daffodil Linen Set.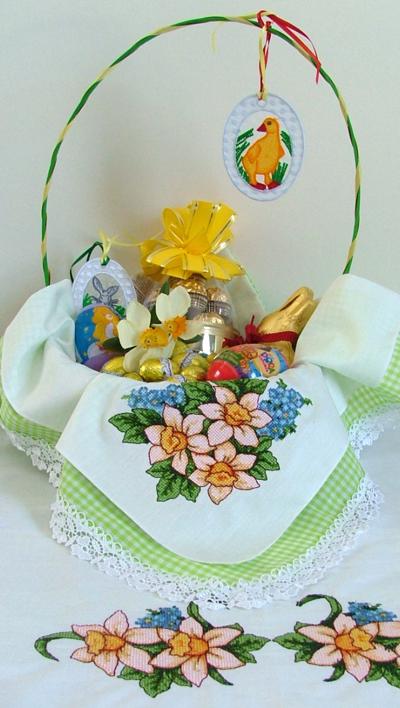 Step One: Hoop the pre-washed white cotton fabric with 3 layers of thin water-soluble stabilizer. We recommend Solvy by Sulky or Avalon by Madeira. Hoop one corner of the fabric, as shown on the picture, as close as possible to the edge.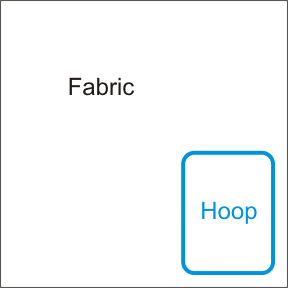 Step Two: Embroider the design. Do not forget to trim jump stitches after every color. When the design is finished, take the fabric out of hoop. Cut away the excess stabilizer and rinse away the remainder. Leave to air dry. Press. Cut out a 16" x 16" square. Fold the 1/8" of the raw edges back and machine-stitch with a 2:1 zigzag.
Step Three: Take a 18" x 18" square of colored fabric. Fold back the raw edges and finish with 2:1 zigzag.
Step Four: Place the colored square on table face up and cover with the embroidered piece, face down. Align one corner and two sides. Machine stitch these two sides 1/4" from the edge. Fold out. Press the seam.
Step Five: Finish the two "free" sides of the lining with lace.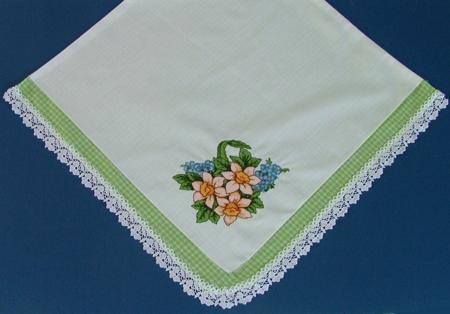 The napkin is ready and you can now place it in the basket. You giftee will be delighted.
We also made a table runner with both designs from the Daffodil Linen Set. If you love crocheting, you can finish the raw edges with your own crochetted lace, as we did.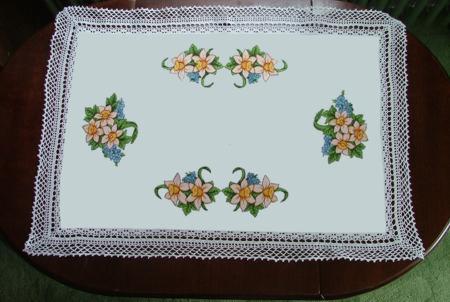 You can also use a ready-made lace.