First Crops Wall Hanging for Thanksgiving
For this endearing wall hanging we used the design Pilgrims and Autumn Embellishments Set.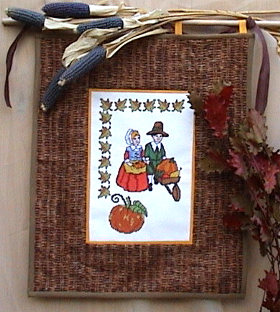 Step One: Stitch out the designs and iron the result. With a removing pencil draw a rectangle measuring 7 1/2" x 10 1/2" (18.5cm x 26cm) on the fabric with the embroidery and cut it out, leaving 1/2" allowance for seams.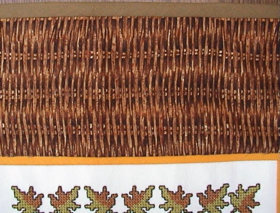 Step Two: Prepare a matching ribbon. You will need 36". Stitch it to the borders of the rectangle.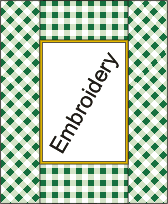 Step Three: Cut two strips measuring 8" x 4" out of patterned fabric (this includes a seam allowance of 1/2"), we have chosen a fabric with a wicker design. Stitch the strips to the lower and upper edges of your embroidered rectangle.
Step Four: Cut two strips measures 17 1/2" x 4", including a seam allowance of 1/2", out of the same patterned fabric and stitch them to the sides of the embroidery. Refer to the layout diagram above.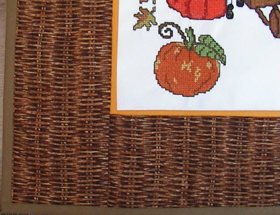 Step Five: Cut out a rectangle out of felt for the backing. It should measure 17" x 14". Place the backing on an even surface and cover it with the embroidery. Stitch (or machine stitch) both layers together along the seams.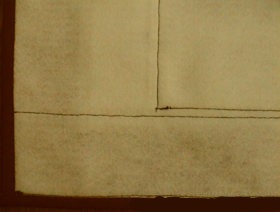 Step Six: Prepare a matching bias strip (you'll need about 68") and finish the raw edges.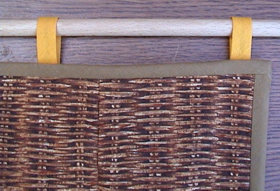 Step Seven: Cut 3" long strips out of ribbon, fold them into loops and stitch to the upper edge of the hanging. Insert a rod into the loops. Your wall hanging is ready!