Fleece Throw with Geishas
Here is an easy and relatively quick project of a fleece throw. We used the designs Geisha with Letter, Geisha with Book, Geisha with Fan, Geisha with Flower, and Fan Lace Set. The first three designs are cutwork lace, the fourth design is an applique and the last set is freestanding lace. We embroidered all of them directly on the fleece, as regular designs.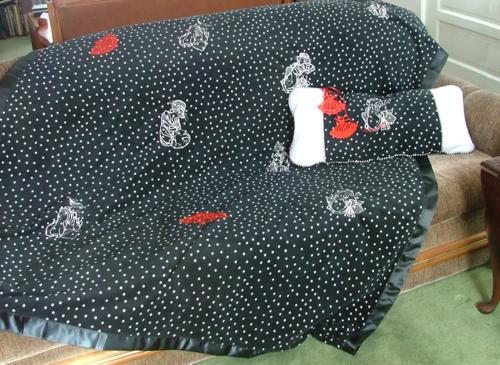 We used 2 yards of black fleece with white polka dots (plus 1/2 yard for decorative pillows, if you want some), 2 yards of black cotton backing (of the same width as the fleece) and 10 yards of satin blanket binding.
Step One: Place the backing on a large even surface - it can be a large table or the floor. Cover it with the 2-yard piece of fleece. To secure both layers, baste them with long stitches around the perimeter and across the fabric, as shown on the diagram. The baste stitches will be removed later, so it's not important to measure the accuracy of the lines.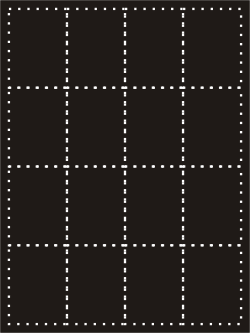 Step Two: Using your embroidery software, print out templates of the designs on paper. Cut them out and arrange them on the throw to see where you'd like them. Mark the places for the embroidery on the throw.
Step Three: Hoop the fleece with the backing. The cottom backing will stabilize the fleece. We did not use any additional stabilizer. We did not use any topping either, but used thicker thread than usual - #30 weight rayon for geishas and #40 for the fans, because they are denser. We used pre-wound polyester bobbin thread.
This is a picture of one of the geishas from the front.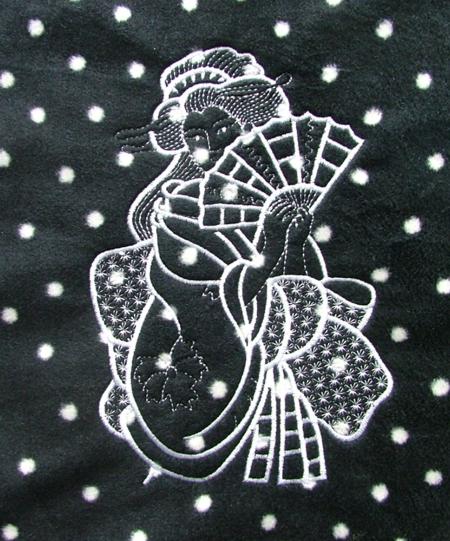 Below is the same geisha from the back. The embroidery simultaneously decorates the fleece and attaches the backing. You can use black bobbin thread, so the backing does not stand out.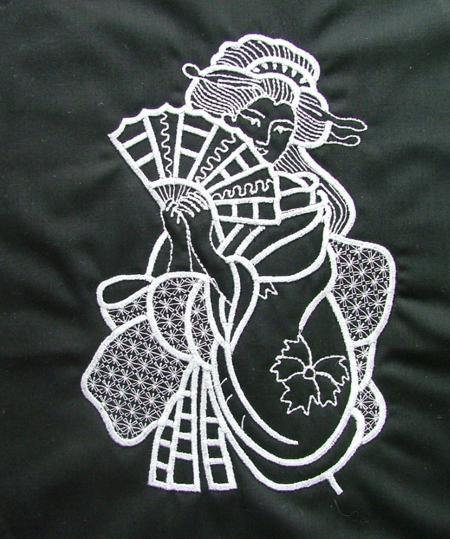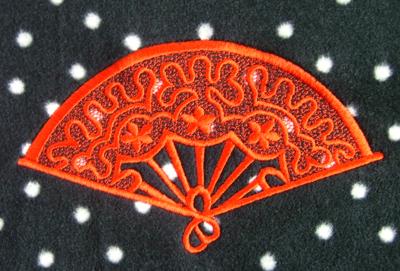 Step Four: When all designs are embroidered, finish the edges with the satin blanket binding. Pull out the baste threads. The throw is ready!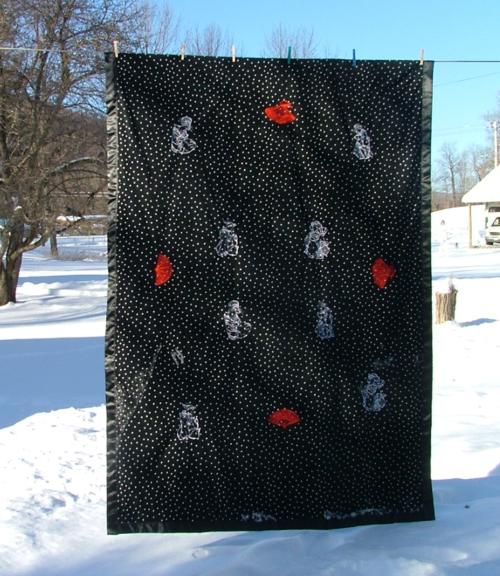 You can add a couple of matching pillows to your throw, like this one on the photo. We embroidered the geisha's design on the fleece and the designs of fans on water-soluble stabilizer and used them as free-standing decorations.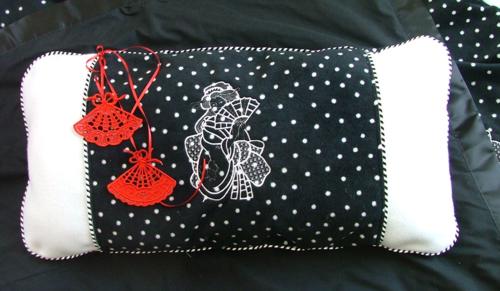 You can make the pillows in whatever style you like. Our Projects section has instructions on sewing many types of pillows.