Regency Cushions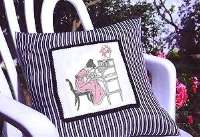 These designs are inspired by J. Brooks, a 19th Century painter who illustrated many novels of Jane Austen. Her books are getting increasingly popular, many of them made into movies, and with them, they propagate the Romanticism of the Regency period.
These designs are fulfilled in the
cross stitch technique.
Simple crosses are combined with more complicated stitches to create textured and at the same time almost sketch-like images, beautiful and lively in their sharpness. We advise you to adjust your machine to the lowest speed setting to prevent tangles and messy stitches.
These designs can be used in a variety of ways, among them the simple decoration of your walls, and, as we have ourselves done, cushions. The embroideries contribute to a fresh, stylish atmosphere. They are best combined with some other sharply textured and straight-patterned fabric. The cushions create an attractive contrast with more radiant colors, and fit right in with anything else.

| | |
| --- | --- |
| | Dance |
| | Tête-a-tête |
| | Harp-Player |
| | Girl with Cat |
| | As you can see, two of the designs, one of which can be found on sale in our catalog, were embroidered in black, ... |
| | ...and two in brown, à la sepia, to match the color of the fabric. You can therefore feel free to experiment with colors. |