Towel Topper
Towels with embroidered toppers can make a beautiful gift and add a wonderful touch to your kitchen. Here we offer a project with our designs.
For the first towel topper we have chosen the design Cup of Coffee.
Step One: Embroider the design on a piece of fabric with stabilizer (we used poly felt with iron-on cut-away medium-weight stabilizer). Cut out the design as close to the embroidery as possible.
Step Two: In your machine, using the mirror menu, flip the design and embroider it again. Cut out as close to the embroidery as possible. You should get two embroideries that look like this: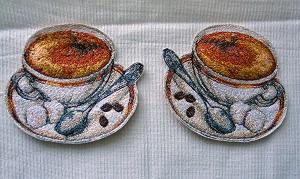 Step Three: Insert the edge of a towel between the two embroidered pieces. Make folds on the towel and pin or baste the three layers together.
Step Three: Insert a loop between the two embroidered pieces and pin it in place, as well.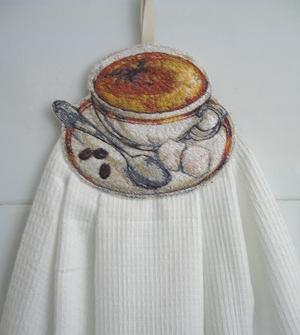 Step Four: Finish all raw edges with zigzag. Your beautiful towel topper is ready!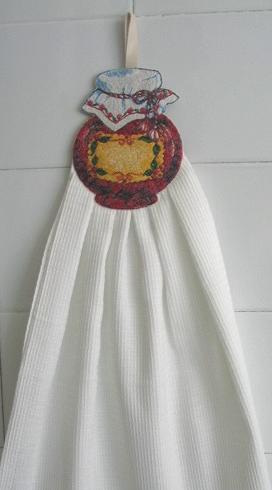 The second towel topper was made in a similar way, but this time we used the design Jam Jar for it. You can see the result above. Below are the two towel toppers together: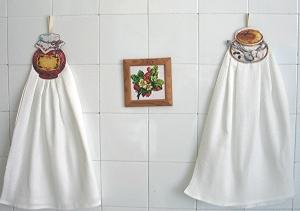 We used Pumpkin for Thanksgiving design for the next towel topper. The towel folders make up the girl's skirt.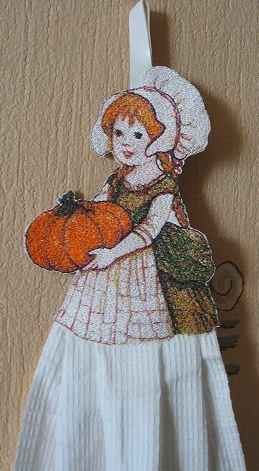 Here are some other designs that can be used to make an attractive and original towel topper to furnish your kitchen.