Wecome Sign
Here are instruction to making a new "Welcome" sign to hang on your entry door. For this project, we used the Swallow Alphabet. You will need light-colored cotton canvas (about 25" x 20"), trimming (about 55"), a piece of crafter's wire, a piece of cardboard or foam (23" x 8"), and some silk flowers.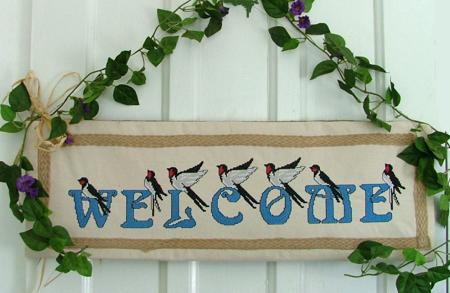 Step One: Stabilise the lower half of your fabric and embroider the letters on it, one by one. Trim all jump stitches. Press. You should get something similar to the diagram below.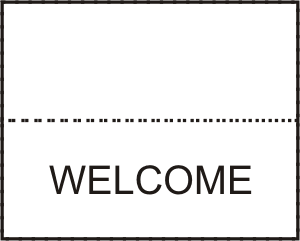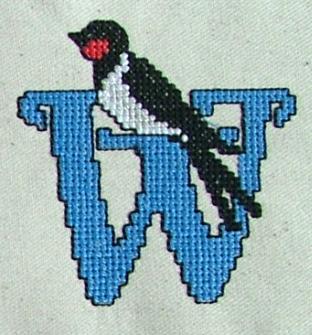 Step Two: Pin the trimming around the word and then machine-stitch in place.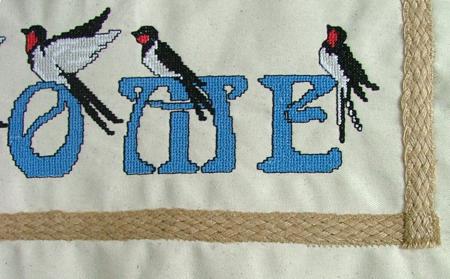 Step Three: Fold the working piece in half lengthwise, face inwards. Pin together. Mark a rectangle measuring 23 1/2" x 8 1/2". Machine stitch along one short edge and along the long raw edge. Leave one short edge open. Leave about 1/2" seam allowance, and cut away the excess fabric. Turn the work right way out. Press.
Step Four: Insert a piece of cardboad or foam measuring 23" x 8" inside. Fold the raw edges inside and slip-stitch.
Step Five: Using an awl, make two small holes to insert wire and hang the sign. Decorate with silk flowers. Your Welcome sign is ready.