White Shirt with Embroidery or How to Restore Your Clothing Using Embroidery
In this project we are going to show you not only how to turn a simple white blouse into an attractive outfit, but also how to mend it with the help of a little embroidery so it can serve you a little bit longer.
The shirt is two years old, much used and abused and not in the best of conditions. The material is medium-weight cotton.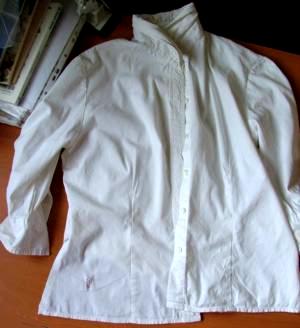 An area in the lower part of the front near the side seam was practically worn through, but instead of consigning the shirt to the trash bin, we decided to see what we could do with a bit of embroidery and our imagination.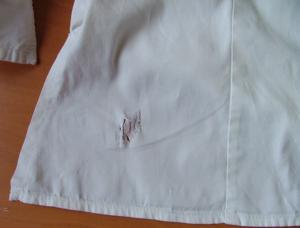 We stabilized the area with one layer of medium-weight iron-on stabilizer and hooped it.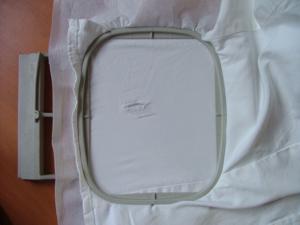 For the job, we chose the Fairy Bird set. The first of the birds was embroidered over the worn-out corner. You can see the results on the photo.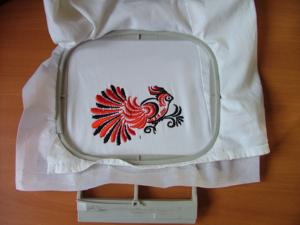 Take the embroidery out of the hoop and cut away the excess stabilizer.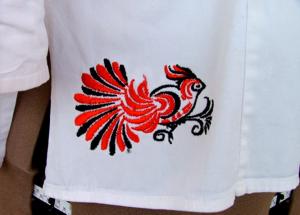 Another bird, the smallest from the set, was embroidered on the upper left front, just above where a breast pocket would normally be. This was done to balance the layout.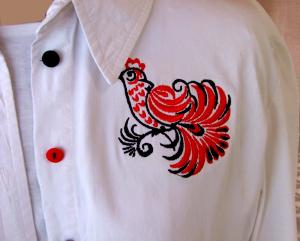 To add a festive effect to the blouse we changed the white buttons to red and black ones, the colors of the embroidery. You can choose to make the embroidery in different colors; use button colors of your choice.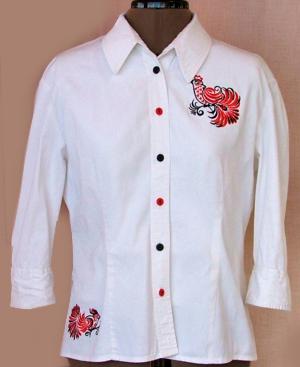 The third design from the Fairy Bird set can be embroidered on a pair of pants to complement the shirt and create a great outfit for any occasion.