Embroidery Collages
Elizabeth Flatla, our customer from Norway, prompted us to create a new section - Works of Our Customers. She has e-mailed us photos of her own works, based on our designs - portraits of composers and writers, musical instruments and sculpture by Michelangelo.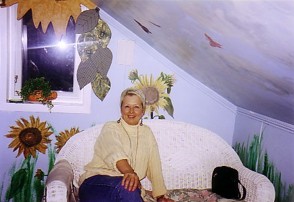 Here is Elizabeth sitting in the "cofferoom" of her studio. She decorated the whole house herself.
Boldness to experiment and a good imagination helped Elizabeth to create these original and attractive compositions that incorporate several different designs in different styles.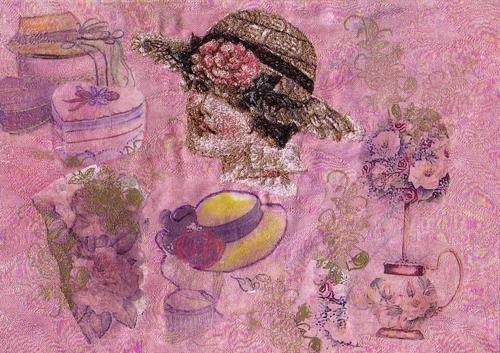 For this collage Elizabeth used the design Young Lady in Straw Hat.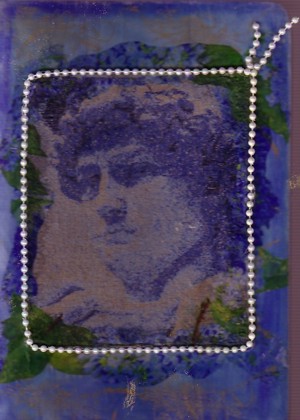 David by Michelangelo was embroidered in "blues" and then put on to a lid of a wooden box.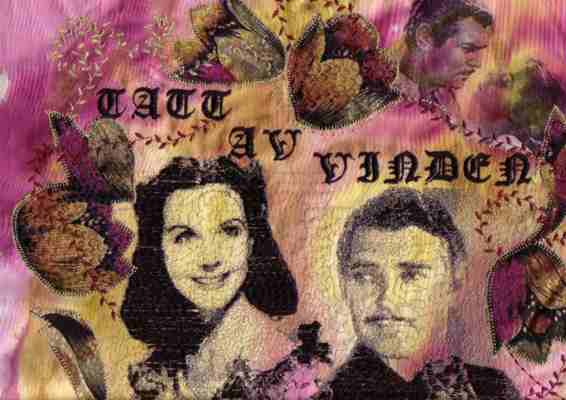 This stunning wall hanging was created using the designs of Vivien Leigh. The writing says "Gone with the Wind" in Norwegian.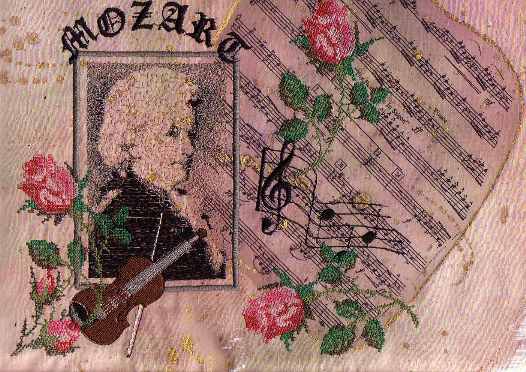 For the Mozart composition Elizabeth painted the fabric in different brown colors for an "antique" look, then printed the sheet of music onto it, embroidered the fabric, and finished with gold paint. This project used our portrait of Mozart.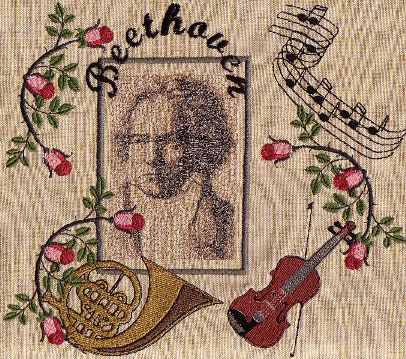 The two projects were fulfilled in a similar style, but on fabric of different textures. The designs used are the portraits of Beethoven and Bach and our Musical Instruments Set I.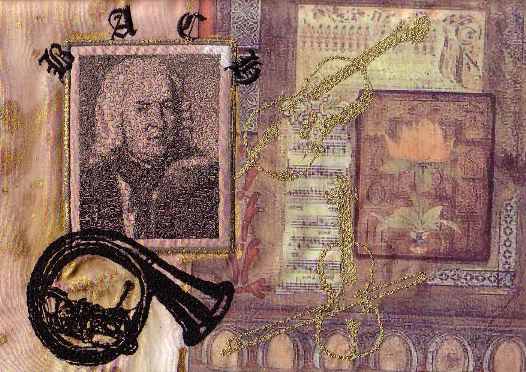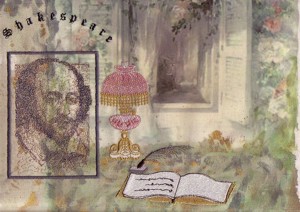 In this collage, Elizabeth used the portrait of Shakespeare combined with a modern background to give an original and surprising effect.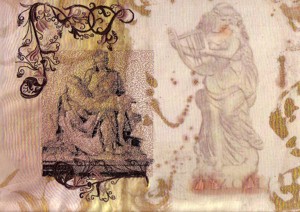 This fifth composition was inspired by the Art of the Renaissance. Elizabeth used the Pieta by Michelangelo, with a similarly themed background and a classical corner.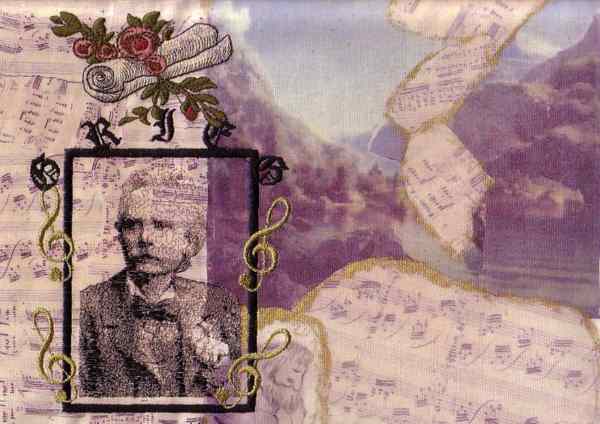 This is a rendering of Edvard Grieg. The composer's portrait lies on a background of mountains and forests, together with some handwritten music. At the bottom, peeking out from behind the portrait, you can find a Norwegian troll. Grieg admired Norway, and wrote music devoted to its landscape and culture.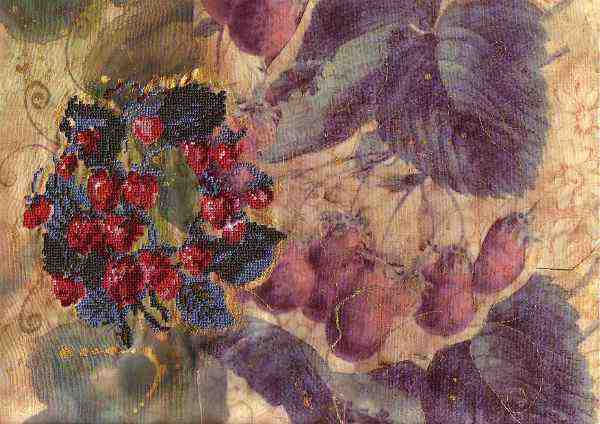 This project uses our Strawberries design, although the colors were slightly changed to blend the embroidery with a background.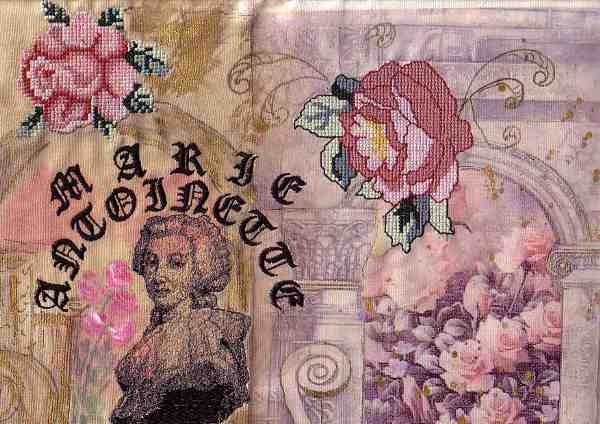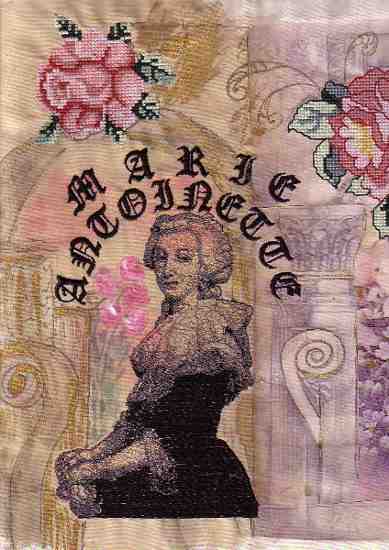 This project shows the portrait of Marie Antoinette, surrounded by roses from our Small Roses Set. The background, in this case, were some antique-looking columns, with roses showing through the arches.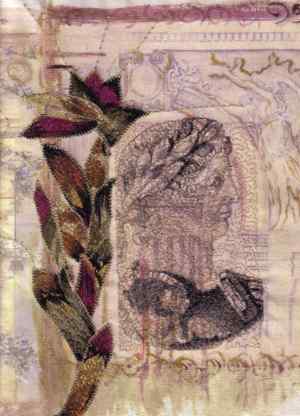 Another of Elizabeth's works. Here she used the portrait of Tiberius on a background that was printed, painted and appliqued.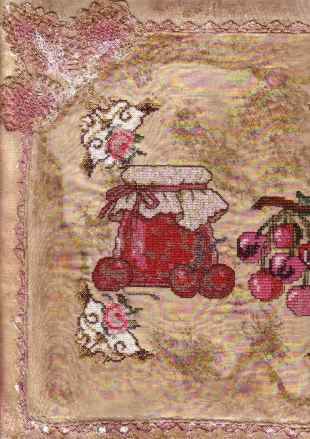 Elizabeth put some of her crochet work around a bit of cotton fabric and put in on to a heavier linen fabric and embroidered one of the jars from very popular Jam Jars Set II. This was painted with strong coffee and a bit of gold paint to get the right colour. The lace was painted a burgundy colour with a touch of gold.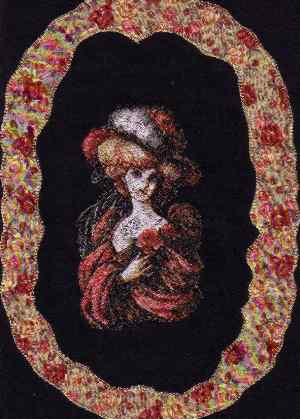 Elizabeth embroidered Chocolate Lady on one-color fabric and appliqued a frame from a golden fabric with small roses around her.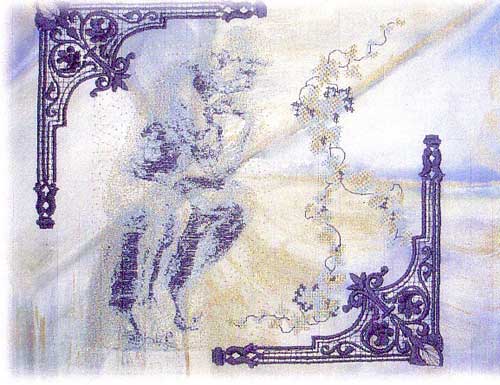 The most recent collages by Elizabeth are "blue". In the first one she uses the famous Thinker by Auguste Roden. For the second collage Elizabeth used the detail from Michelangelo's Pieta. Both of the results are very original, dreamy and beautiful.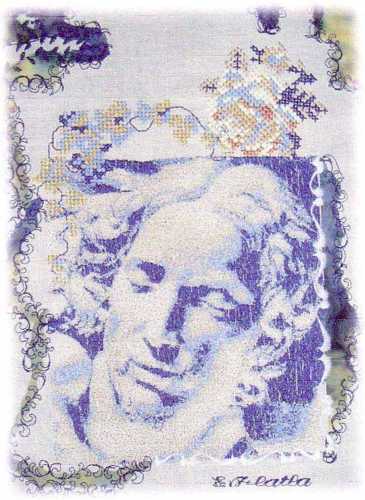 In this collage Elisabeth used the design Michelangelo. Tomb of Lorenzo de Medici.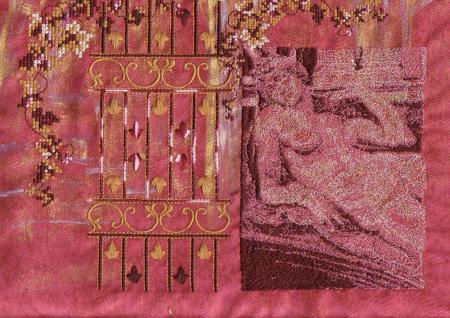 The latest collage is devoted to Napoleon.