Works of Our Customers
This photo was sent in by Priscilla Gough fromWellington, New Zealand. here is what she writes: "I would like to share a picture of one of my Christmas projects.
For my work Christmas "Secret Santa" I drew a relatively new staff member and all I was able to find out about him was that he liked good wine (obviously a bottle of wine within the Secret Santa price limit wouldn't have done!) So I made a wine bag with the "Wine Glasses" photostitch design. I embroidered it on Hessian as the recipient is a rugged sort of fellow. I lined it with some left-over lightweight curtain thermaldrape lining. On the back of the bag I embroidered the recipient's name, the year and a clever quip relating to a theatre show he had recently directed.
It was very well received."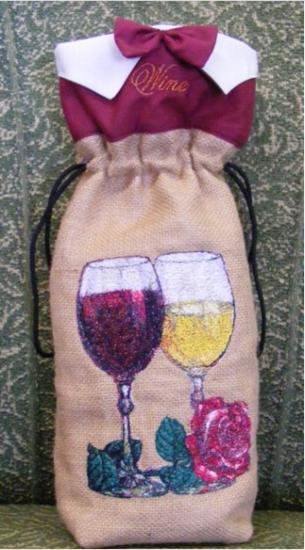 The embroidery design used is Wine Glasses.
Thank you for sharing!
Back to the Works of our Customers page