Works of Our Customers
These photos were sent in by Miriam Bruening from Illinois. She called her wall hanging "Amazing Bounty". Here is what she writes:
"I stitched the photo stitch designs on tear away stabilizer and Aqua Magic stabilizer. Then I had a free standing embroidery to fuse on a background fabric with all the other appliqué pieces. I drew appliqué templates for the girl's dress and the boy's pants. I also used our 4D Software to pull out the pumpkin and the yellow squash as separate designs, resized them to enlarge them a bit and use as separate pieces in the border. The Fun Fur (or corn silk) was added as yarn couching to the ears of corn in the border to give the finished wall hanging its 3D embellishment."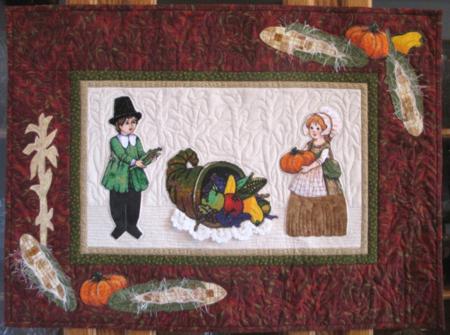 Click to enlarge
The designs used are Cornucopia, Pilgrim Boy, Girl with Pumpkin.
Thank you for sharing!