Works of Our Customers
These three photos were sent in by Pat Myers from Fremont, OH. Pat embroidered several Valentine Heart doilies for her loved ones. Here is what she writes:
"Before I discard these photos (they aren't the best; sorry), I thought I'd share my version of your valentine doily. My Valentine gifts this year to three very important people in my life: My daughter wanted one as she loves anything valentine because our most precious daughter/granddaughter was born 3 months premature at 2.06 pounds 9 years ago. We have a big joyous celebration on valentines day for that precious baby girl. She gets the pink/purple for her room, Mom gets the red. Then my girlfriend redid her bedroom in blue and green. This blue/green heart looked absolutely gorgeous on her nightstand! (Yes, I was so excited to give it to her.....she got it early!) This is a beautiful design, although I cannot get the center as perfect as your photo shows. I get better with each try, though. I found it easier to soak for just long enough to melt away the Vilene. Then I put it together while still quite stiff. THEN when assembled, I soak for 30 min. or more to soften. Thanks for the designs. I love them!"
Thank you for sharing, the doilies are beautiful!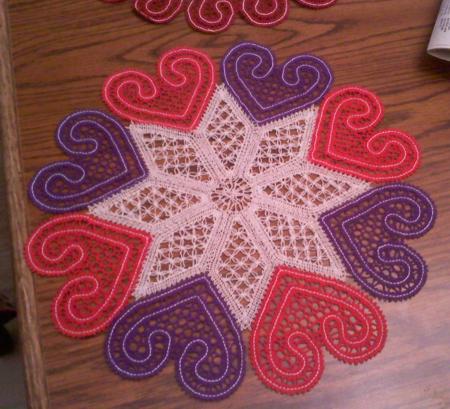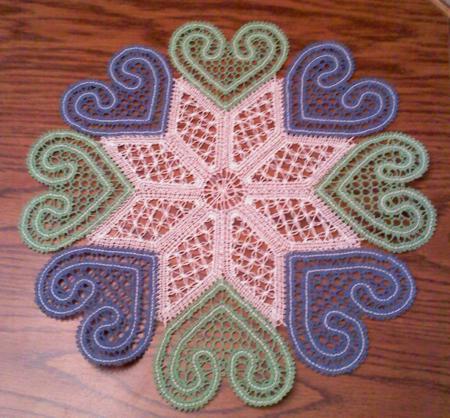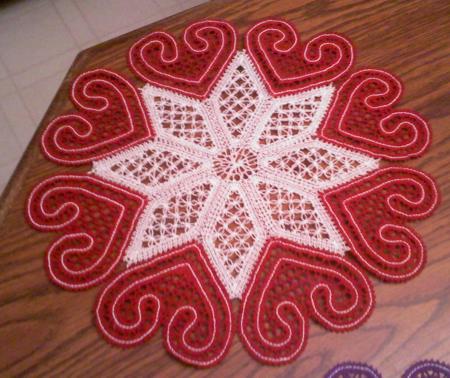 Back to the Works of our Customers page