Works of Our Customers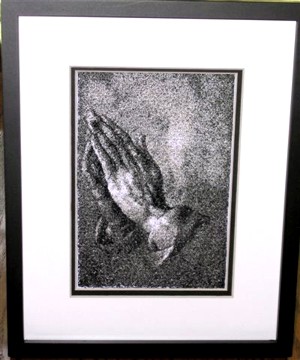 We received this photo from our customer, Sarah Sykes, from New Market, MD.
Sarah shared not only the photo of her work but also detailed instructions for embroidering and framing the design The Praying Hands by Albrecht Durer. We hope her experience proves helpful to our other customers.
Her instructions go like this:
I embroidered it on a pre-washed piece of white, cotton denim-type fabric, cut 12" X 14". Hoop it in the large hoop with Viking's Hoop Ease and tighten the hoop as much as you can without breaking it. This is a very dense embroidery and will pull if not virtually cemented into the hoop.
Fix, and stitch file A, then B. Note again: This is a full evening's worth of work -- two 80/12 needles and one full pre-wound embroidery-thread bobbin... but it's also about the most fun an embroider can have!
Thread colors:
1. Robison-Anton #2297 - Snow White (resist temptation to use anything but Snow White ~ the best highlights come from the whitest white and will serve you well on this piece)
2. Robison-Anton #2538 - Stainless Steel
3. Robison-Anton #2404 - Cinder
4. Sulky #1040 (medium grey)
5. Sulky #1220 (charcoal grey)
6. Sulky # 1234 (black that's blue-black not brown-black)
Essentially, it's white, four escalating values of grey and black
Regarding the framing:
I bought the frame at A.C. Moore. It's a Burnes of Boston #117080 -- $19.99 (less a JoAnn 50% off coupon) -- that is 8" X 10" with an opening in the mat for a 2.5" X 3.5" photograph. However, it's one photograph frame that actually has room for the embroidery. I also bought an extra 8" X 10" double mat -- white outside with black inside.
To frame it, I took the spacers off of the mats that came with the frame and glued them onto the back of the mats I purchased. I cut an extra piece of acid-free mat board (I had some on hand from my other framing, but any framing store can cut you an 8" X 10" piece from their scraps), after which I wrapped the embroidery around that (centering it with the mat board for the frame) and secured it with framer's tape (acid- and everything-free tape).
After cleaning the glass, I layered it: glass, white mat, black mat, embroidery taped to mat and backing.
If you can't get that frame, a shadow-box frame would work with a couple of mats, separated with foam-core board glued to all four sides of the back.
Sarah Sykes

Back to the Works of our Customers page