Works of Our Customers
These photos were sent in by Toni Melton from Overland Park, Kansas. Toni used the design of Golden Cream Roses. Here is what she wrote: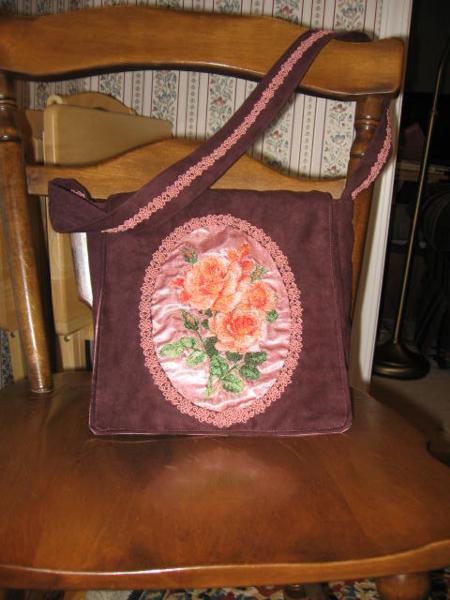 "I was inspired by the rose envelope purse project to make a similar purse. I made mine with 3" sides to give it some depth. It's a deep purple suede that I got in the upholstery department, lined with pink duponi. I couldn't get the hang of embroidering on the suede, so I embroidered on the duponi instead. Then I cut a frame in the front flap of the purse, mounted the embroidery behind it and framed it with a trim that matches the duponi. I used more of the trim on the shoulder strap and added 3 pockets inside to hold my phone, keys and other small items that can get lost in the bottom. Very cool, and I have several more projects planned using photo stitch - I love the way it turns out!"
That's a very good-looking purse, Toni!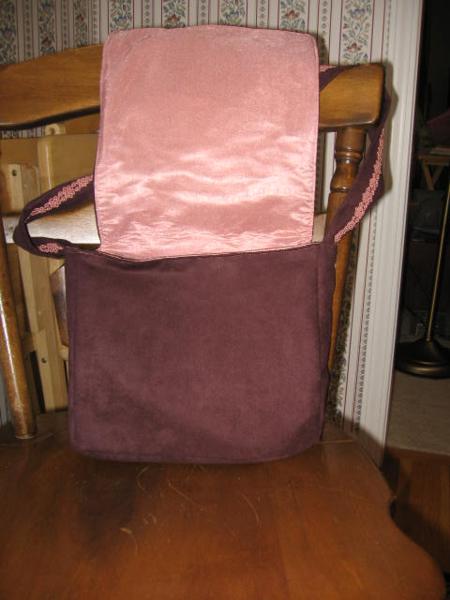 Thank you for sharing!
Back to the Works of our Customers page