4th of July Sale!
35% Off all our designs!
Shop Now
3D Christmas Free-Standing Ornaments
Please read the General Guidelines on Embroidering our FSL designs first.
Some points to remember from the General Guidelines:
Use Vilene water soluble stabilizer;
Use the same thread for the upper and bobbin to get two-sided embroidery.
DO NOT embroider several designs in one hoop.
Free-standing lace ornaments can be embroidered both using Rayon and Polyester thread, depending on your preference. For the best results you should use the same thread for the upper thread and bobbin thread. These are the instructions for our
3D Christmas Ornament Set.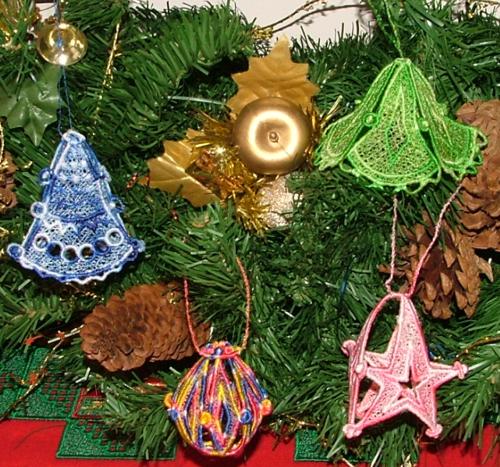 Step One: Hoop 2 layers of water soluble stabilizer. We recommend fabric-like stabilizers, such as Vilene, which dissolves in warm water very quickly. Film-like water soluble stabilizers, such as Solvy and Madeira's Avalon, are not suitable for the purpose. You can purchase it at https://www.pgsspecialties.com/html/stabilizer.html or in other stores.
DO NOT embroider more than one design in a hoop at at time. Water-soluble stabilizers stretch and if you hoop it incorrectly, or embroider more than one pattern in the hoop, you can easily ruin all your work.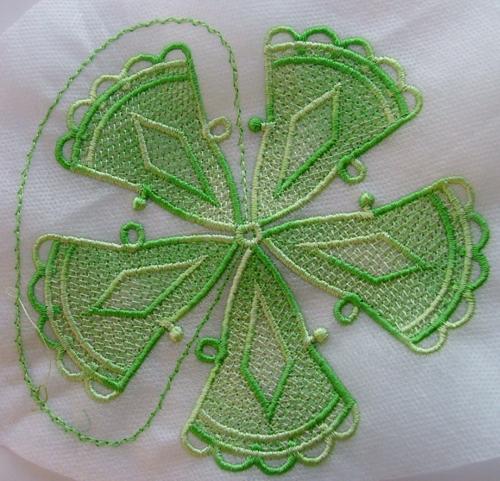 This is one of the ornaments on the stabilizer. Note that the loop is embroidered together with the ornament.
Step Two: Rinse the stabilizer and leave the patterns to air dry. Press with steam.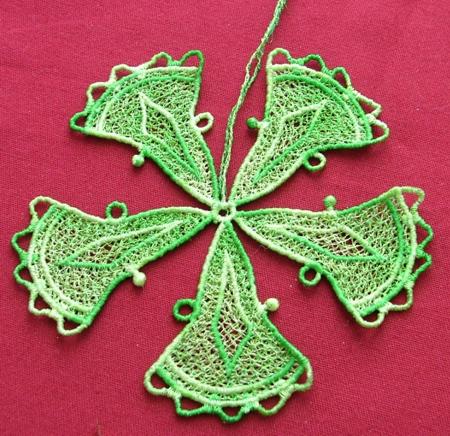 Step Three: To give the ornament a 3D shape, insert the small "buttons" into the loops.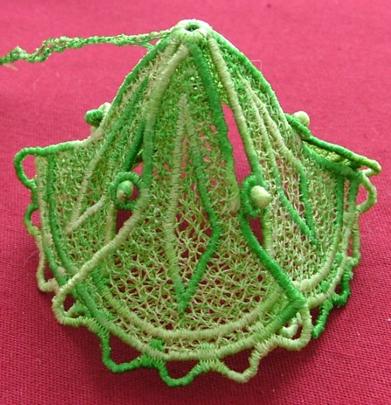 The first bell is ready! Below is the same ornament in blue metallic threads.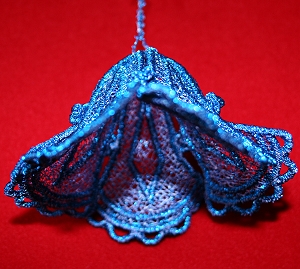 All other designs in the set are made in the same way. The only exception is the Chinese Lantern, which consists of two parts. They are both embroidered in one hoop.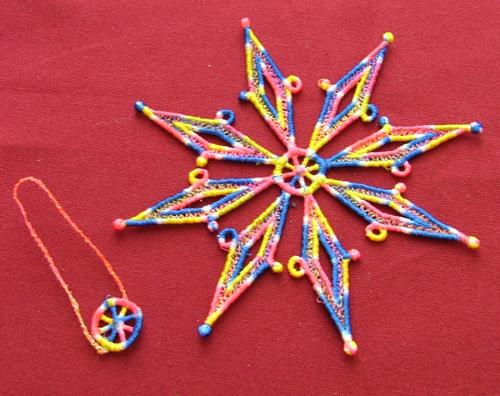 To assenble the Chineese Lantern, button the first row first...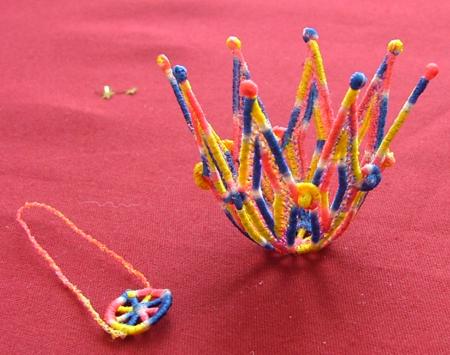 Then insert the loose ends into the holes in the second design.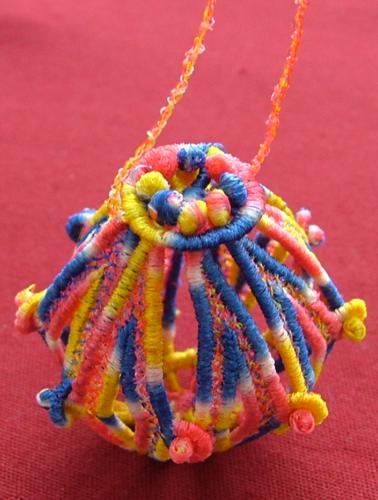 The Lantern is ready. Here is another variation of the same ornament. Both are embroidered with variegated threads.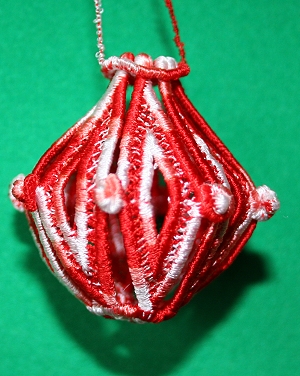 Here are some more pictures of the ornaments. We made them in rayon, polyester, both evenly colored and variegated, and metallic threads.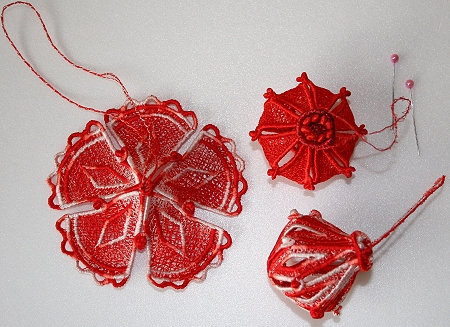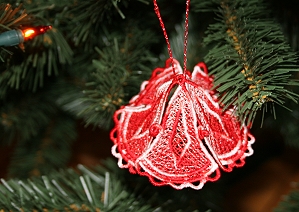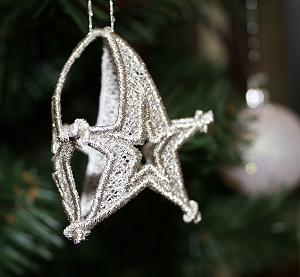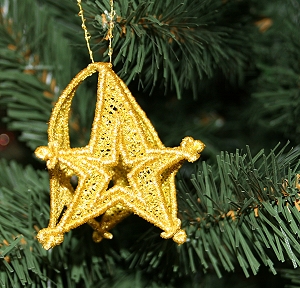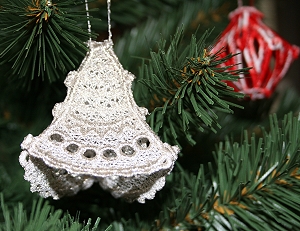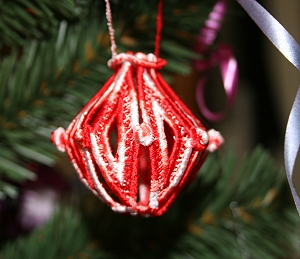 The ornaments are ready. Enjoy!
Back to 3D Christmas Ornament Set Page
We have more Christmas ornaments in our Catalog.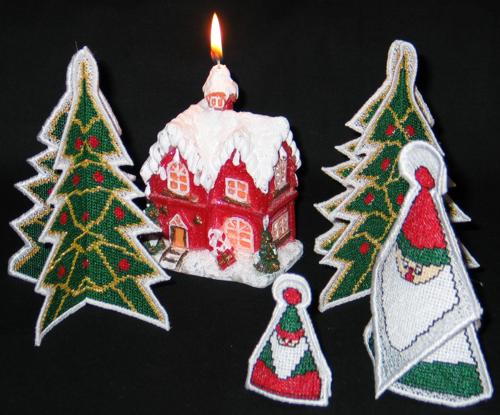 3D Christmas Toys.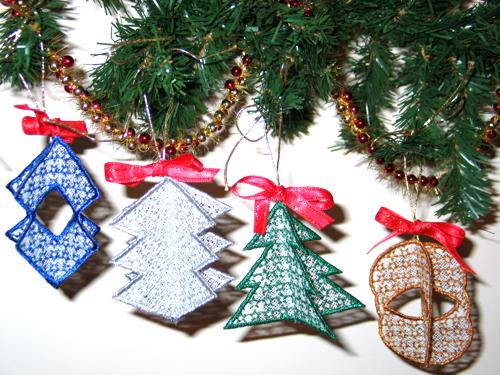 3D Christmas Ornament Set
Back to 3D Christmas Ornament Set Page