3D Free-Standing Angel
Please read the General Guidelines on Embroidering our FSL designs first.
Some points to remember from the General Guidelines:
Use Vilene water soluble stabilizer;
Use the same thread for the upper and bobbin to get two-sided embroidery.
DO NOT embroider several designs in one hoop.
Free-standing lace ornaments can be embroidered both using Rayon and Polyester thread, depending on your preference. For the best results you should use the same thread for the upper thread and bobbin thread. These are the instructions for our
3D Angel.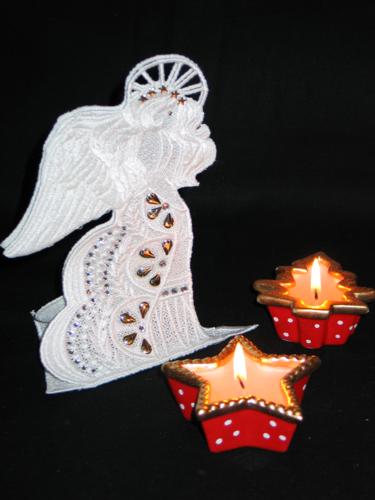 Step One: Hoop 2 layers of water soluble stabilizer. We recommend fabric-like stabilizers, such as Vilene, which dissolves in warm water very quickly. Film-like water soluble stabilizers, such as Solvy and Madeira's Avalon, are not suitable for the purpose. You can purchase Vilene at https://www.pgsspecialties.com/html/stabilizer.html or in other stores.
Embroider the pattern of the angel, its mirror image and the triangle base. DO NOT embroider more than one design in a hoop at a time. Water-soluble stabilizers stretch and if you hoop it incorrectly, or embroider more than one pattern in the hoop, you can easily ruin all your work.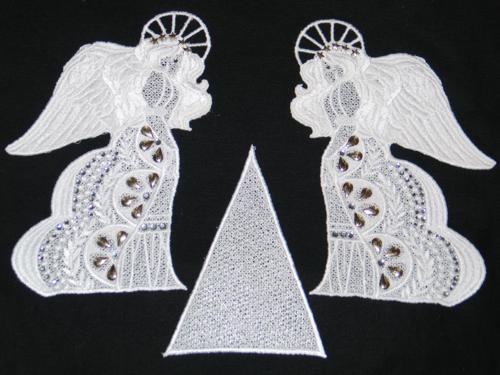 Step Two: Rinse the stabilizer and leave the patterns to air dry. Press with steam. Decorate the panels with hot fix crystals.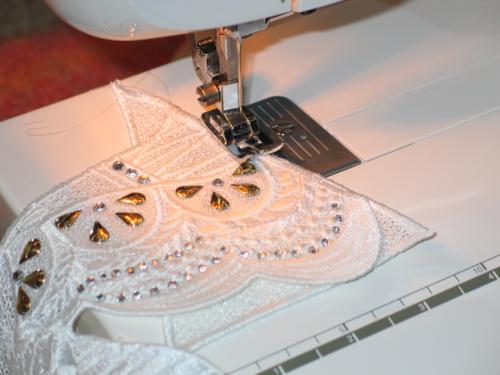 Step Three: To assemble the angel, place the triangle base with the sharp angle pointing away from you; find the middle of each side and mark them with pins. Find the middle point on the angel panel's bottom edge and mark the points with pins. Place one of the angel panels over the triangle, right side up. Align the edges and the pin marks, take the pins off and stitch with a zigzag over the edge.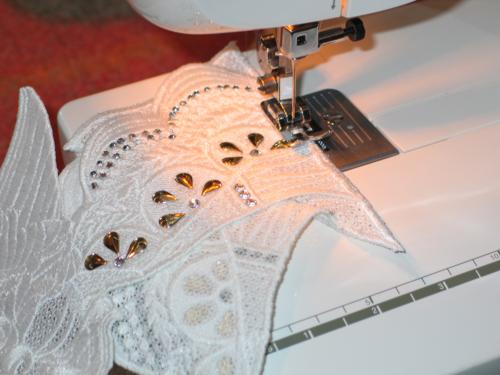 Step Four: Repeat with the second panel.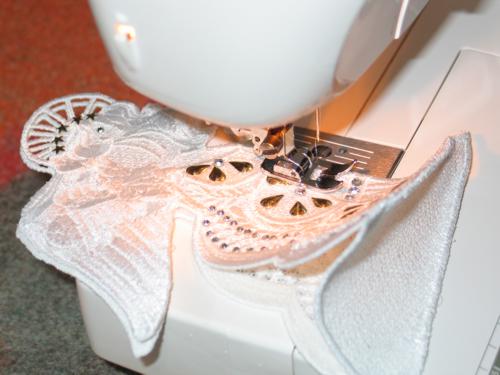 Step Five: Now stitch both angel panels together over the edge along the outline, starting from halo and finishing approximetely over the frill of the skirt (red dots on the picture).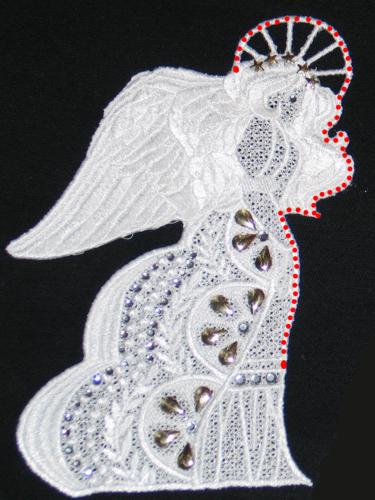 The angel is ready. Enjoy!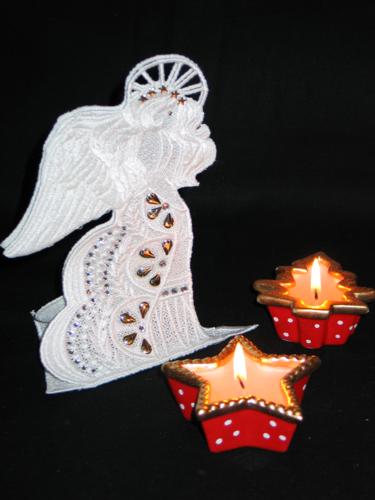 We have more FSL angels in our Catalog.
Back to 3D Angel Page