This quilted Christmas Banner is really easy and fun to do. We used the letters from the Holly Berry Alphabet and the Christmas Lantern design in the cross-stitch technique. The finished size of the banner is 29" x 35".

You can purchase this wall quilt from our Etsy store!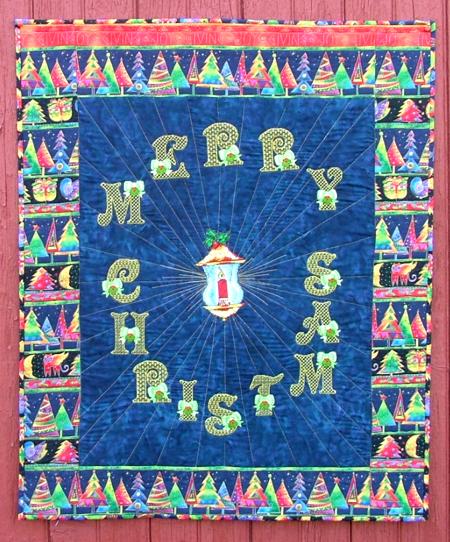 The central part is 21" x 26", and the borders, all except the top one, are 4" wide. The top border is 5" wide, because we wanted to save the beautiful print of the fabric.

For the central part, we used a dark blue fabric with a marble pattern. We embroidered ir first, and then attached the borders. That's why we did not cut out the central piece, but just marked a 21" x 26" rectangle in the center of the piece of fabric, leaving the margins big enough to hoop the fabric.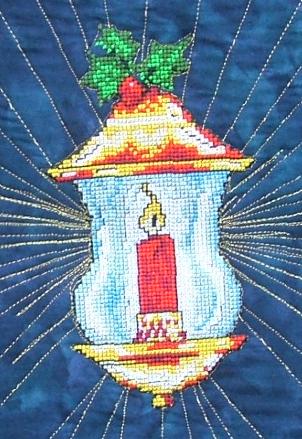 Then we printed out snapshots of the designs and arranged their placement on the central part. After that we embroidered the designs one by one, starting with the lantern. As a stabilizer, we used low loft Dream Poly batting. We cut the batting away as close to the embroidery as possible, after finishing each pattern.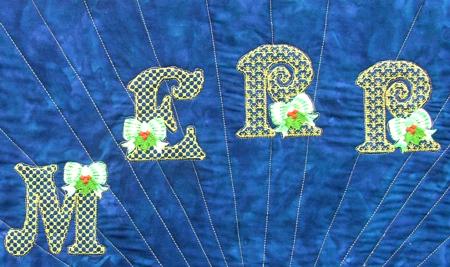 When the embroidery was finished, we pressed and squared the working piece. It's final size should be 21 1/2" x 26 1/2".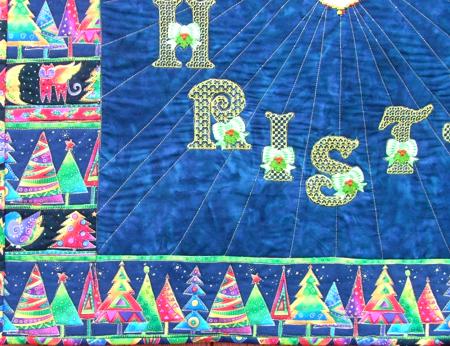 Then we attached the borders. As we used fabric with a rather whimsical stripped pattern, we had to use a large 1 1/2 yard piece. If you choose fabric with a less demanding pattern, 1/2 yard should be enough.
After the borders are attached, press the working piece again. Make a sandwich out of the backing, batting and top. Pin all three layers together and start quilting. With the invisible thread, we quilted around the lantern and the letters. With the golden metallic thread, we quilted rays from the lantern to the borders. With the same metallic thread we quilted the borders following the pattern of the fabric.
After the quilting is done, press the quilt with steam, square it and finish the raw edges.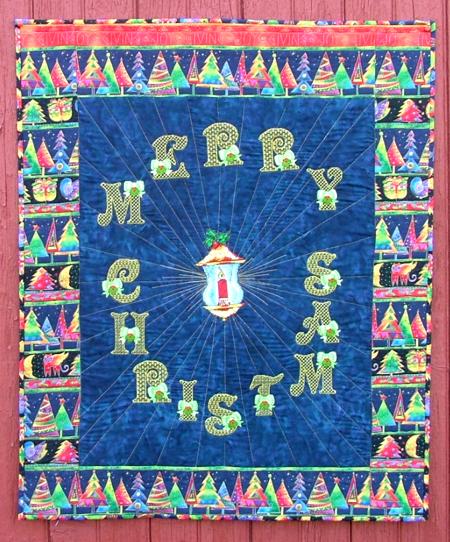 The banner is ready. Enjoy!
We hope that you like our idea and will come up with many of your own.
Back to Projects Page