Rose Doily with FSL Edge Lace
For this doily we used the Rose Bouquet design and the designs from the Rounded Border FSL Set.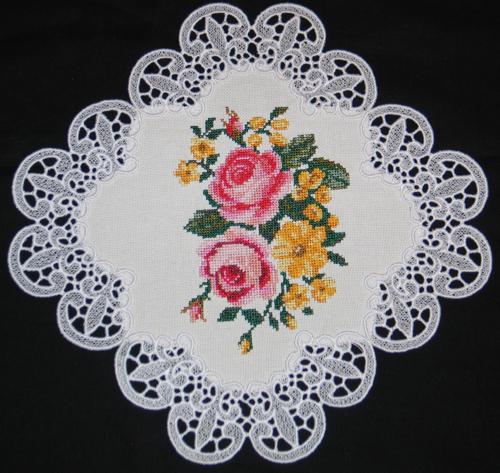 You will need a 12" x 12" piece of cotton or linen cloth (we used cotton fabric), water-soluble Vilene stabilizer and 40-weight rayon or polyester embroidery threads. The finished size of the doily is about 12" x 12". The sizes are given for designs in the large hoop.
Step One: Pre-wash the fabric. Stabilize the fabric with any water-soluble stabilizer, preferably Vilene. Embroider the roses in the center of the fabric square. The design is done in cross-stitch technique, so trim the jumps after every color.
Dissolve the stabilizer and leave the piece to air dry. Press.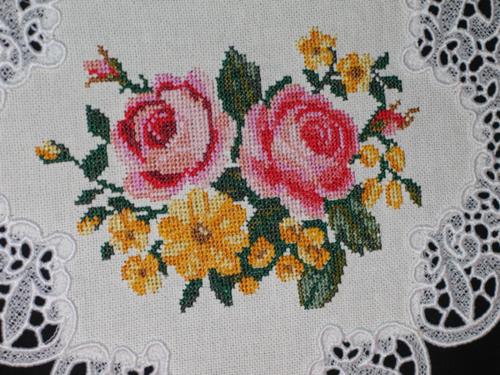 Before proceeding to embroidering the freestanding lace, please read the General Guidelines first.
Some points to remember from the General Guidelines:
Use Vilene water soluble stabilizer;
Use the bobbin thread of the matching color (white in our case)
DO NOT embroider several designs in one hoop.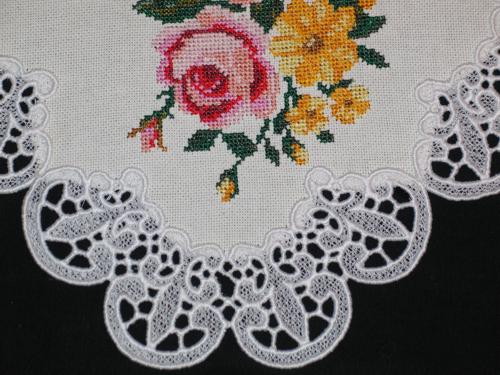 Step Two: Embroider the corner pattern four times.
Use 2 layers of Vilene-type water-soluble stabilizer. Rinse the stabilizer and leave to air dry. Press with steam.
Step Three: Place the FSL parts over the fabric around the embroidery. Pin in place. Using invisible thread, or the same thread as the FSL was done in, zigzag the parts to the fabric. Trim the excess fabric under the lace.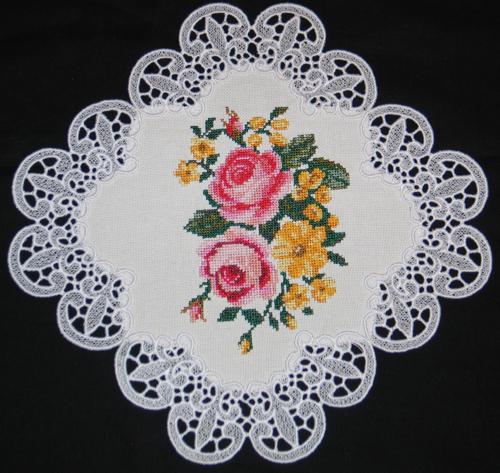 The doily is ready. Enjoy!
Back to Rose Bouquet
Back to Rounded Border FSL Set.
Back to Projects Page