Autumn Leaves Table Topper
This quick and easy project takes only a couple of hours to accomplish, but it will make a very eye-catching seasonal decoration for your home. We used the designs from the Leaf Bluework Set.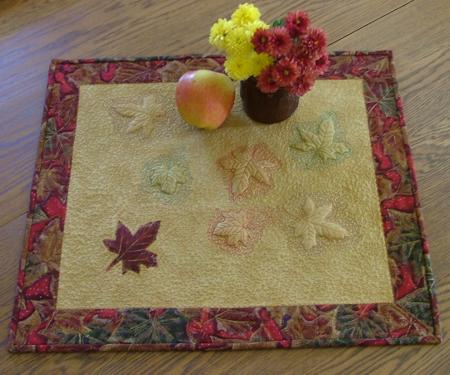 The finished size of the quilt is about 21" x 21". You will need a fat quarter of golden fabric for the central part, and 3/4 yard of patterned fabric for the border, binding and backing. You'll also need a 24" x 24" piece of batting, and several pieces of Dream Poly batting measuring about 5" x 5". And of course, you'll need embroidery and quilting threads.
Step One: Assemble the top first. Trim your golden fat quarter to get a rectangle measuring 17" x 21". Cut out 2.5" wide strips for borders. If you are making mitered corners, cut four strips 30"-32" long.
If you are making borders with box corners, cut four strips measuring 2.5" x 21". Stitch two of the strips to the longer sides of the rectangle and press the seams towards the border. Stitch them to the working piece, pressing the seams toward the borders.
Step Two: Mark the spots for the embroidery. Stabilize the quilt top with a piece of Dream Poly batting and make the first embroidery (the Dream Poly batting produces a 3-dimensional Trapunto effect). Repeat, until you have embroidered all the leaves you want to. For the embroidery, we used red, golden brown and dark green rayon embroidery threads. We also made an applique out of the border fabric.
Step Three: Cut away the excess Dream Poly as close to the embroidery as possible. Make a sandwich. Pin all three layers together.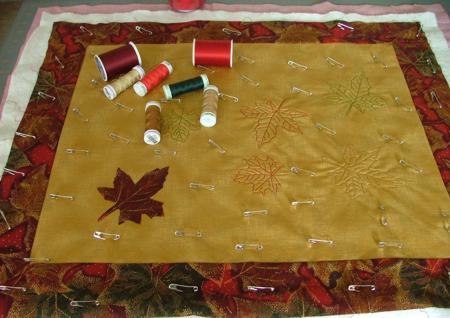 For quilting, we used 60-weight Mettler cotton thread of the same color as the embroidery.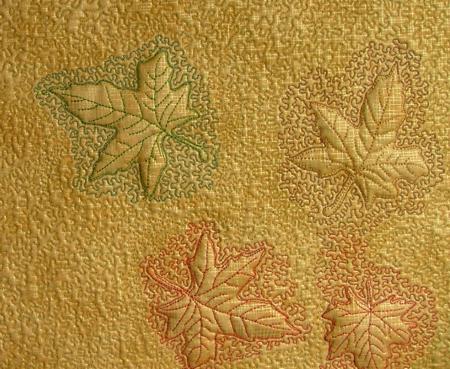 Using threads of matching colors, quilt along the lines of the embroidery, then quilt around the embroidery with small stippling. Continue stippling with thread matching the background color. We quilted the borders along the pattern of the fabric.
Finish the raw edges with binding.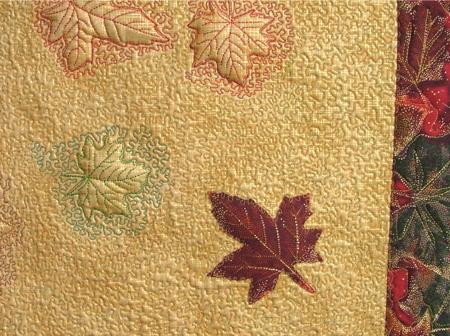 We hope that you liked our idea and will come up with many of your own.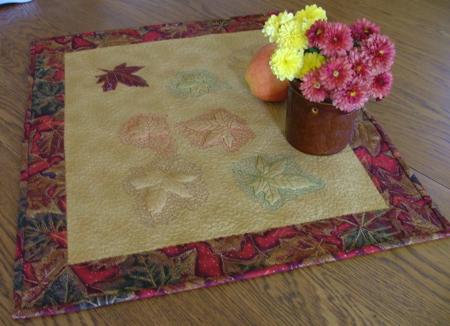 Back to Leaf Bluework Set
Back to Projects Page