Greeting Cards with Cutwork Lace - 2
In the first part of Greeting Cards with Cutwork Lace, we showed that you can get interesting results when you embroider cutwork lace designs on tulle. Here we show how to use cutwork lace designs embroidered on paper to make greeting cards.
You will need cardstock for cardmaking which is available in most craft stores in a variety of colors and sizes. You will also need self-adhesive tear-away stabilizer, a sharp 75/11 needle and 40-weight rayon or polyester embroidery threads. If you prefer cotton threads, use 60-weight ones.
Note: If you're using printable card stack, print the greeting first, following the instructions of the manufacturer.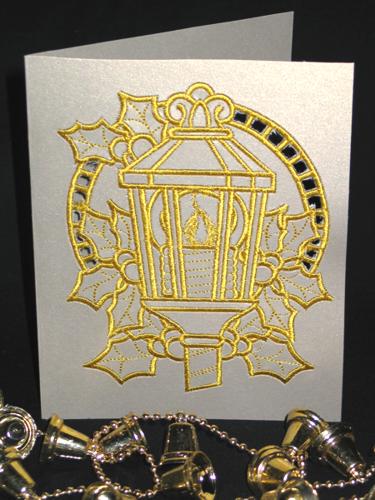 Step One: Out of the cardstock, cut a card and fold it so that it fits inside your hoop. For my 5" x 7" hoop, this size is approximately 12" x 8".
Step Two: Hoop a piece of self-adhesive tear away stabilizer, sticky side up.Remove the paper which covers the sticky side inside the hoop. Stick your paper onto the stabilizer.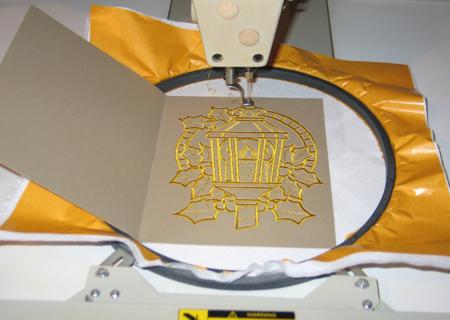 Step Two: Embroider the design. We embroidered Christmas Lantern with golden yellow rayon thread.
Step Three: Remove the work from the hoop and cut away the excess stabilizer. With the help of a quilter's ruler and rotary cutter, trim all the edges. If you do not have these tools, an ordinary ruler and scissors work just as well. With the help of a craft knife, cut out the paper between thread bridges.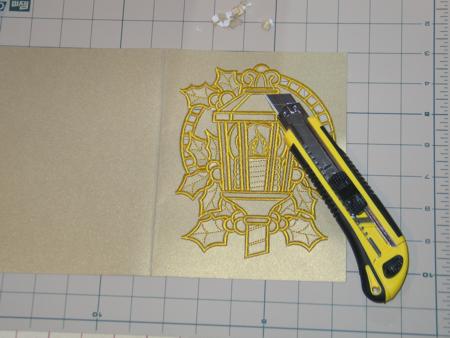 The card is ready. Enjoy!
This card features Christmas Ornament Lace design for the small hoop embroidered in white rayon on white paper.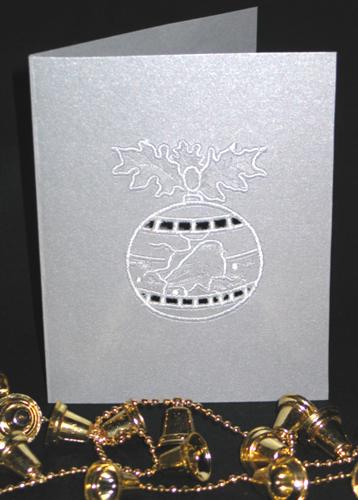 If you liked the idea, here are some other designs that you can use for it. You can find more in the Christmas Cutwork Section.
Back to Projects Page