Basic Crochet Cardigan for 18" Dolls
The Basic FSL Crochet Cardigan for 18-inch dolls is a set of five machine embroidery designs. We offer the cardigan in one size, which will fit 18-inch dolls with 12 1/2" to 15 1/2" shoulders, 9 1/2" to 9 1/2" waist and 10 1/2 to 13" hips.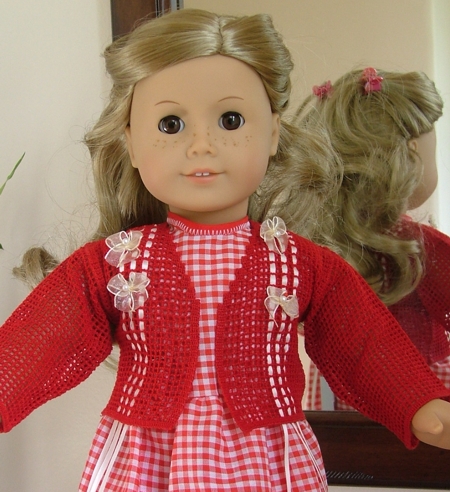 You will need water-soluble Vilene stabilizer and 40-, 50- or 60-weight cotton embroidery threads. The thinner your thread is, the finer the final product. For this cardigan we used Signature and Pacesetter, both 50-weight cotton, and all kinds of small embellishments - trimmings, ribbons, beads, etc. The final style of the cardigan depends entirely on you.
The parts of the cardigan are embroidered like all our FSL crochet, so reading the General Guidelines and Step-by-Step Guide to Embroidering our Crochet-Style FSL Designs might be helpful.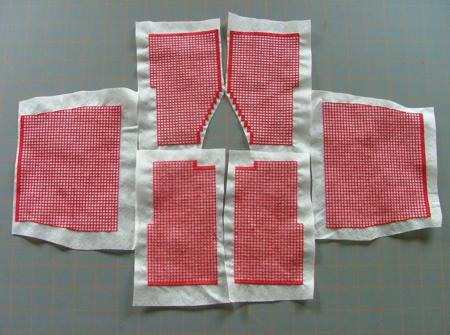 Step One: For one cardigan, embroider :
two back parts;
the left and the right front parts;
two sleeves.
Trim the stabilizer close to the designs, leaving at least 1/2" around each design. Do not dissolve the stabilizer at this point. Treat Veline as fabric and assemble the cardigan as described below.
Note: If you prefer to dissolve the stabilizer before assembling, you can do that. Do NOT use hot water, leave the parts in a bowl of warm water for about an hour, change water several times, then spread the parts on an even surface and leave to air dry. Press with steam.
Step Two: Thread your machine with the SAME thread with which your embroidered the designs. Use short and not very dense zigzag. First, stitch the back parts together. Then make the shoulder seams, attaching the front parts to the back. Next, attach the sleeves.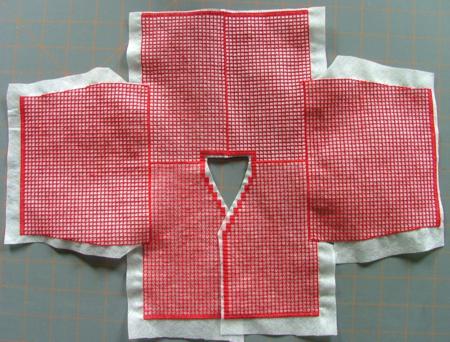 Now fold the workpiece in half down the center of the sleeves and zigzag over the edge to connect the sleeves and the front and the back. Turn the cardigan out to the right side.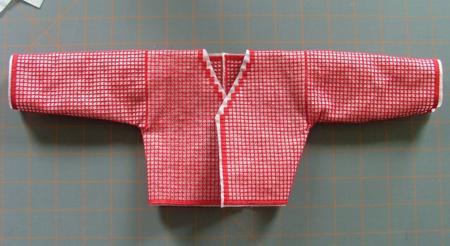 Step Three: You can now go ahead and dissolve the water-soluble stabilizer. Place the cardigan into a bowl of warm water; change the water several times to dissolve the stabilizer completely. So that the cardigan dries evenly, spread it on a flat surface and let it air dry. Iron, if needed.
Step Four: Now you can proceed to the most exciting part - decorating the cardigan. Depending on the embellishments used you can get very different results.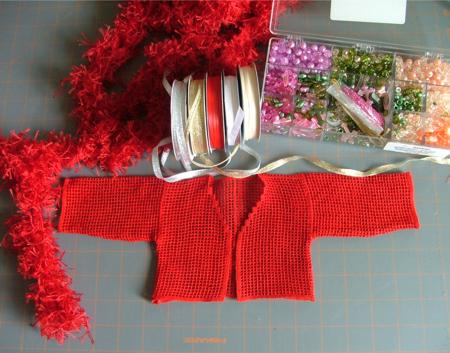 In the blue version, we attached a stylish feathered trim to get a jazzy result.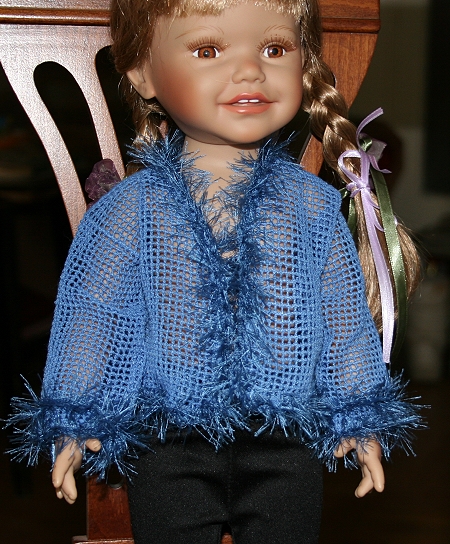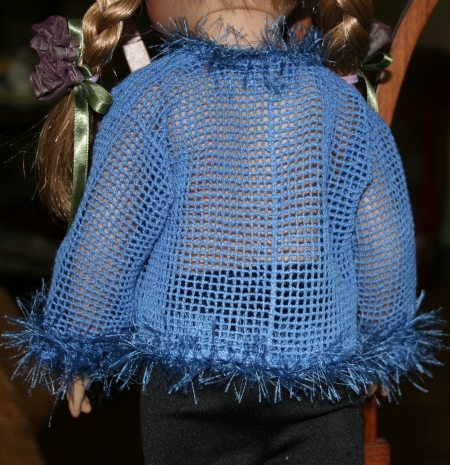 We decorated the red cardigan with embroidery ribbons. Just thread the ribbons through the holes in any direction and you'll get striking results.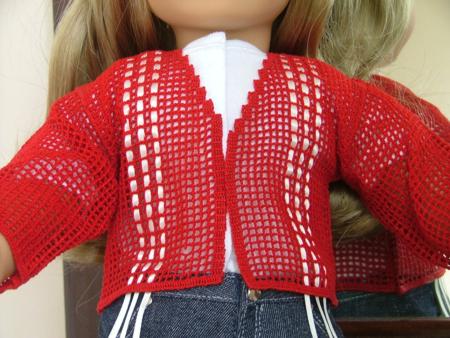 This version looks great with jeans.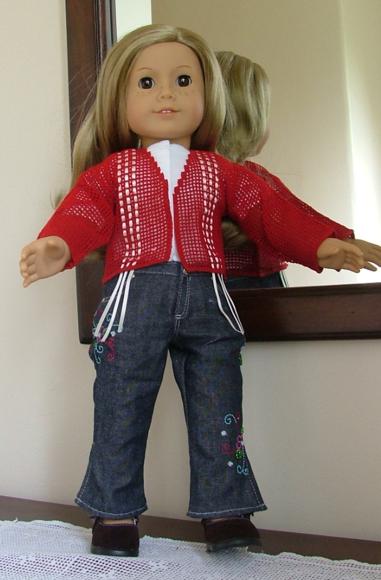 You can attach several bows, or tiny silk flowers, and you'll get a country-style cardigan to wear over a dress.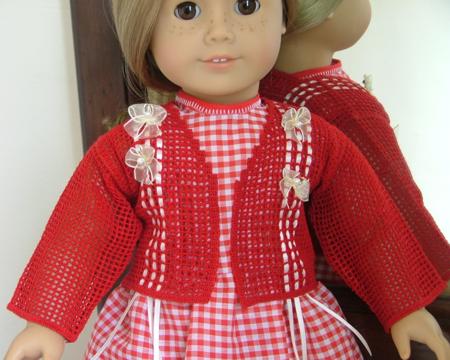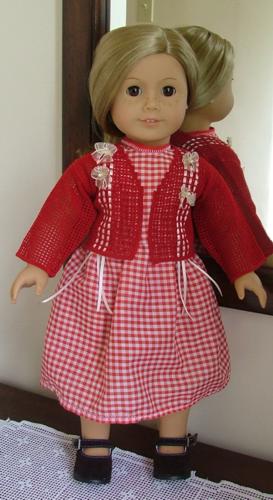 Back to Basic FSL Crochet Cardigan for 18-inch dolls