Oriental Fan Quilt Blocks Project Ideas
On this page, we'd like to offer you some ideas for the Oriental Fan Quilt Blocks, a set of six machine embroidery designs in the Redwork technique.
The first idea is coasters. To make this set, we embroidered the designs on thin leather.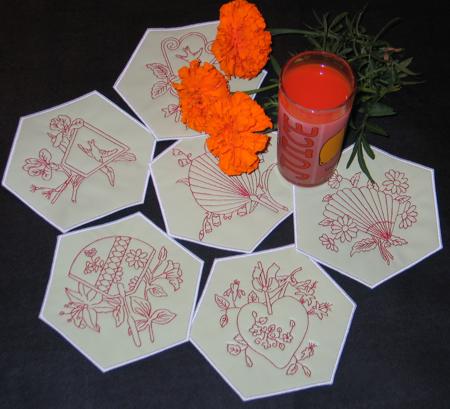 Before embroidering the frame, which is the last color, we placed a layer of craft felt under the hoop to make the lining. When the embroidery was finished we just cut the blocks out to make finished coasters.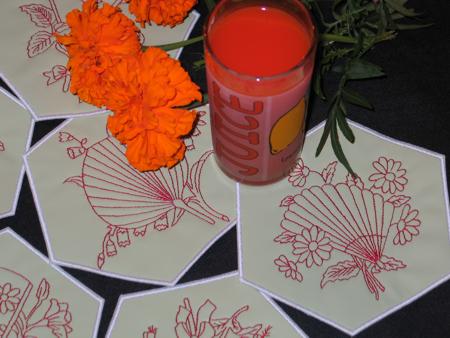 The second project is a quilt, of course! The finished size of this quilt is 28" x 28".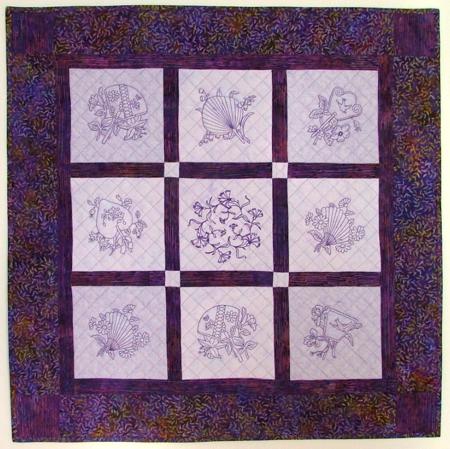 This quilt is very easy to make. We used our stash of batik fat quarters. We used 2 pale lavender fat quarters for the blocks (they were different fabrics, but of similar coloration), one deep purple fat quarter for the sashing and the inner border and two patterned fat quarters (or 1/2 yard) for the outer border and binding.
First we assembled the top, then we did the embroidery.
The blocks are 6" x 6" when finished, cut them 6 1/2" x 6 1/2".
The sashing is 1" wide, cut it 1 1/2" wide.
The first border is 1" wide, cut it 1 1/2" wide.
The second border is 3" wide, cut it 3 1/2" wide. To make this border, wou will need four strips measuring 22 1/2" x 3 1/3" of the patterned purple fabric and four squares measuring 3 1/2" x 3 1/2" of the deep purple fabric you used for the sashing and the first border. If you do not want to make a pieced border, just cut two strips measuring 3 1/2" x 22 1/2" and two strips measuring 3 1/2" x 28".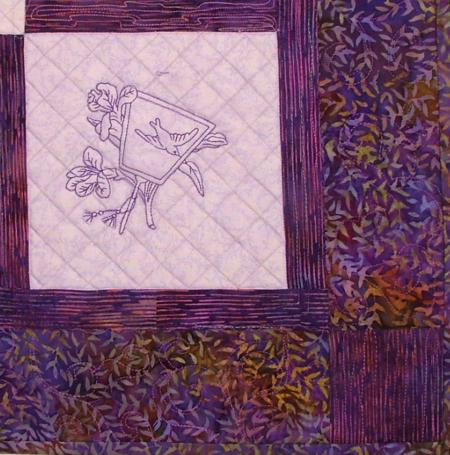 When the top was ready, we embroidered the designs one by one. We stabilized each block with Dream Poly (Weighty Loft) batting and then cut away the the excess batting as close to the embroidery as possible to produce a trapunto effect. The process is described in our Step-by-Step Guide to Trapunto with Machine Embroidery.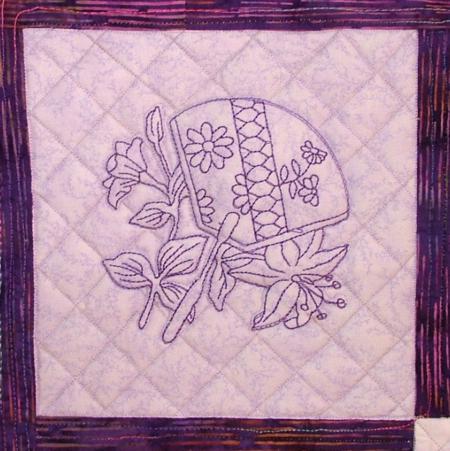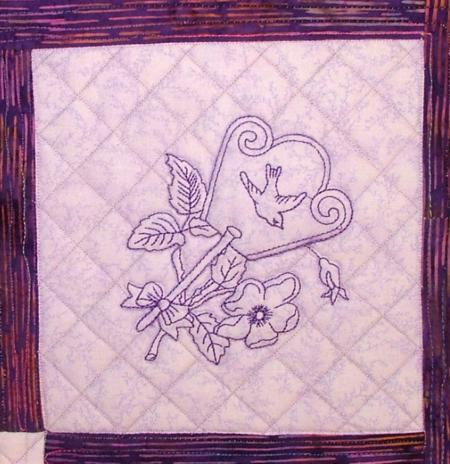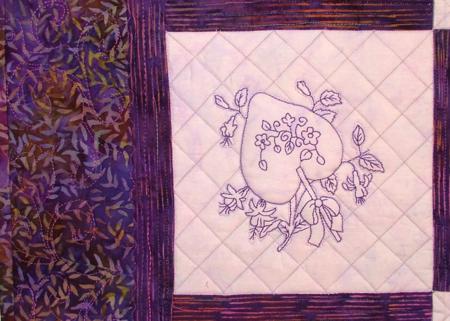 We hope that you like our ideas and will come up with many of your own!
Back to Oriental Fan Quilt Blocks
Back to the Projects Page