FSL Fancy Ball Dress and Tiara for 12" Doll
The FSL Fancy Ball Dress Set for 12" dolls is a set of three freestanding lace machine embroidery designs. The set gives a lot of possibilities for creating beautiful dresses for 12-inch dolls.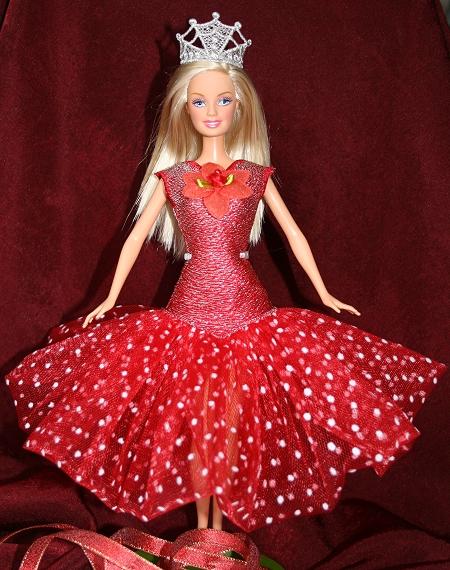 You will need water-soluble Vilene stabilizer, 40-weight embroidery threads, organza, silk, net or any other light-weight fabric, a narrow organza or satin ribbon of a matching color and any tiny embellishments (beads, crystals, etc.) that you like.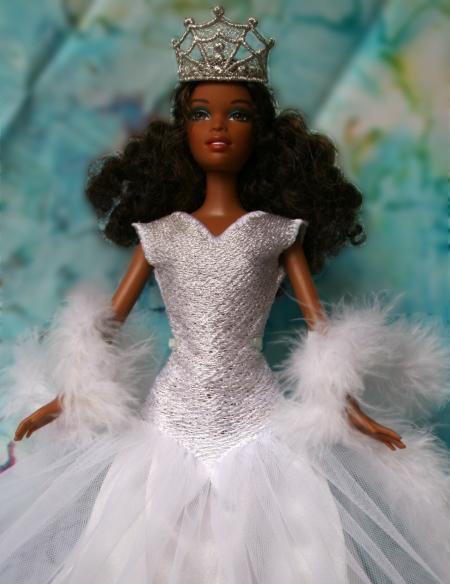 The top of the dress is embroidered like all our freestanding lace, so the General Guidelines might be helpful.
Some points to remember from the General Guidelines:
Use Vilene water soluble stabilizer;
Use the same thread for the upper and bobbin to get two-sided embroidery.
DO NOT embroider several designs in one hoop.
Step One: Hoop the stabilizer and embroider the front and the back of the top. Rinse the stabilizer and leave the patterns flat to air dry.
Note: It's very importrant to wash the stabilizer away thoroughly, to eliminate any stiffness. On the other hand, you do not need to rinse the tiara so thouroughly, since it should remain stiff.
Step Two: You can assemble the dress top either manually or on your machine. Stitch the shoulders together first. Use short and dense zigzag as a bridge stitch. Then, stitch together the side seams.
Step Three: Out of fabric, cut a skirt, gather the upper edge with thread, then attach to the top.
For the red skirt we used tulle - cut a piece 8" wide, fold it lengthwide, baste the raw edge, pull the tread from both ends to collect the pleats, and attach to the bodice.
Step Four: Put the dress on a doll, and lace the back with ribbon.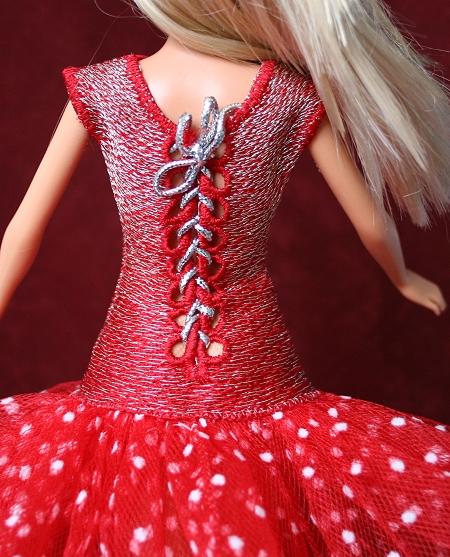 Put the tiara on your doll. Now it's ready for a fancy ball!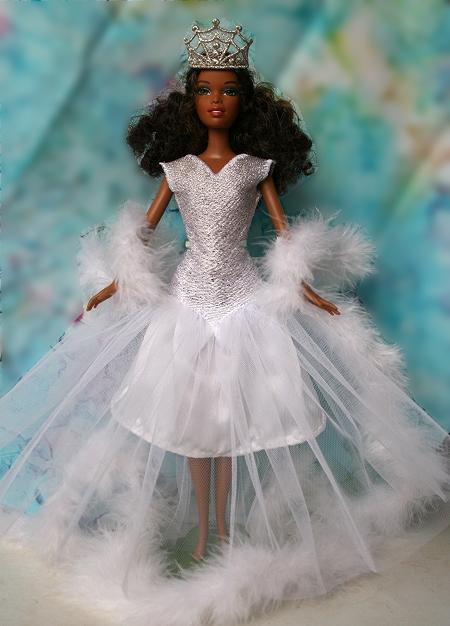 Enjoy!
We hope that you liked our ideas and will come up with many of your own.
Back to FSL Fancy Ball Dress Set for 12" dolls