FSL Easter Basket
These are the instructions on how to make the FSL Easter Basket.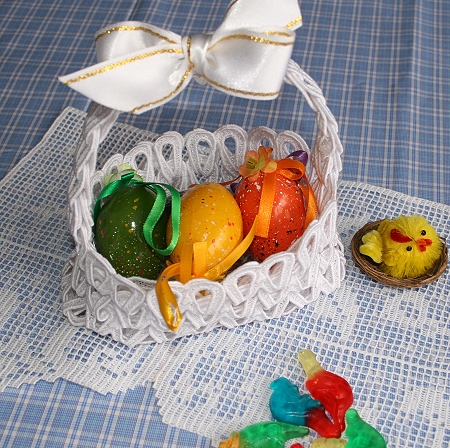 The designs from our FSL Easter Basket are embroidered as regular FSL. You can read about this in our General Guidelines.
To embroider this set we used 40-weight polyester embroidery threads; you can also use rayon or cotton embroidery threads. If you use cotton embroidery thread, we recommend to clean the machine after embroidering every part because cotton threads, even ones specially made for embroidery machines, leave a lot of lint.
Some points to remember from the General Guidelines:
Use Vilene water soluble stabilizer;
Use the same thread for the upper and bobbin to get two-sided embroidery.
DO NOT embroider several designs in one hoop.
The finished size of the basket is about 6.5" wide x 5" tall. The handle is about 12" long. You can make the basket higher, if you wish. You will need: embroidery thread, water-soluble Vilene stabilizer and an organza ribbon. The silk flowers that we used are optional.
Step One: Embroider: part #1 - 1 time
part #2 - 30 times
part #3 - 16 times
Step Two: After you embroider the necessary parts, rinse the stabilizer and leave to air dry. Press all parts with steam.
Step Three: To assemble, take one part #1 (the bottom of the basket) and insert the flaps of part #2 into two of the holes along part #1's edge. Fold part #2 in the middle so that the slots meet. Attach 10 parts #2 to the bottom in this way. There is no need to sew or use any sort of adhesive.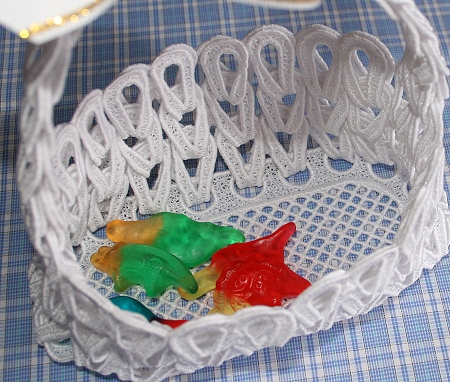 Step Four: Insert another 10 parts into the slots of the first row, connecting the neighboring parts of the first row. Now insert the remaining 10 parts #2 to make the third row of the basket. Using invisible thread, machine-stitch along the upper edge to secure the flaps in place.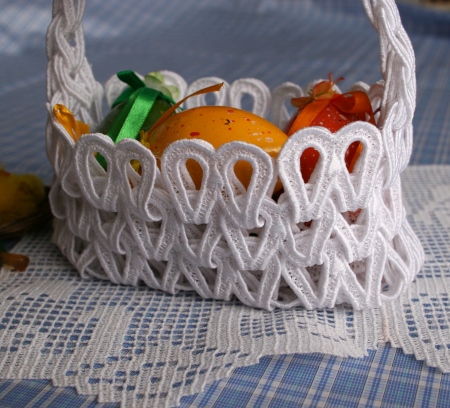 Step Five: Take two parts #3 and insert them into two adjacent slots of the upper row. Fold them to overlap each other. Insert a third part #3 into the slots of the previous two parts, fold. Take the fourth part, insert it into the third part and fold also. Repeat with four parts #3 to get a chain.
Do the same with the other 8 parts #3. Insert the first two into two adjacent slot of the upper row opposite the slots in which the first half of the handle is inserted.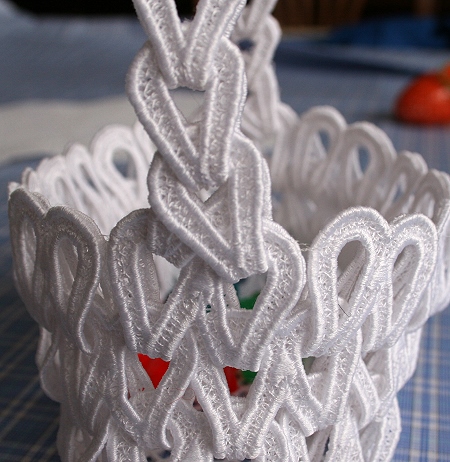 The last 2 parts of each chain, which will be the center of the handle, are connected with a ribbon. See the photos below: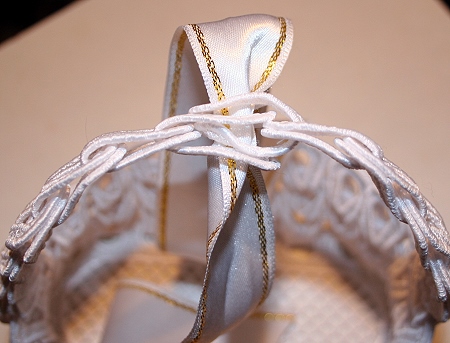 Insert the ribbon into all four loops...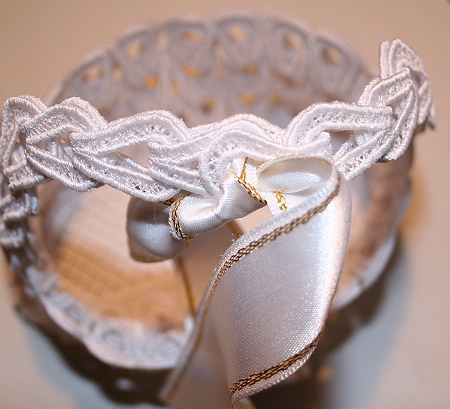 and tie a bow.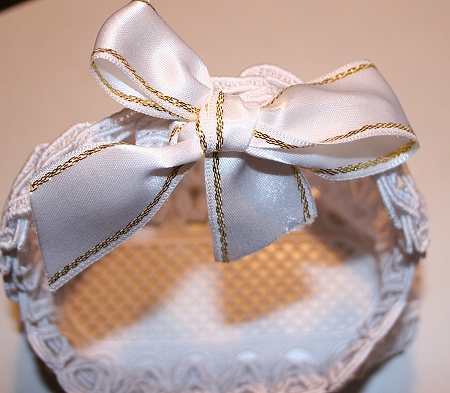 If you wish, you can insert a ribbon into the slots along the upper edge of the basket, as we did in the photo below.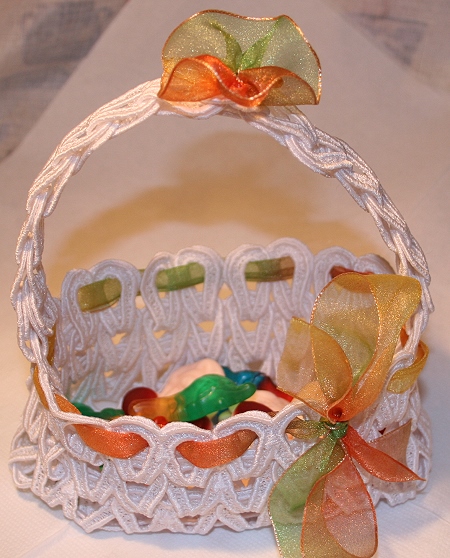 We hope that you liked our set and the possibilities that it offers. Enjoy!
Back to FSL Easter Basket page
More freestanding lace sets can be found in our catalog:
Back to FSL Easter Basket page