Hardanger Cross Set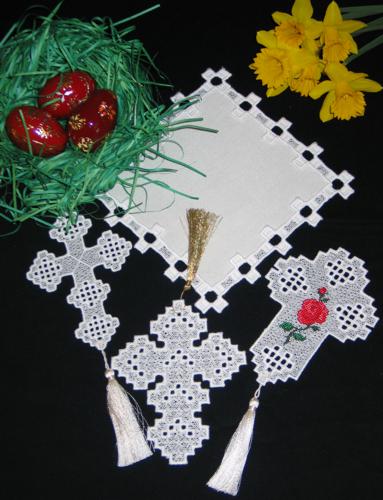 The designs from our Hardanger Cross Set are embroidered as regular FSL, you can read about this in our General Guidelines.
To embroider this set we used 40-weight polyester embroidery threads; both emroidery rayon and cotton also give good results.
Some points to remember from the General Guidelines:
Use Vilene water soluble stabilizer;
Use the same thread for the upper and bobbin to get two-sided embroidery.
DO NOT embroider several designs in one hoop.
The designs from this set can make a perfect holiday gift.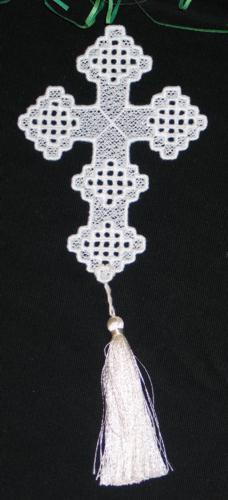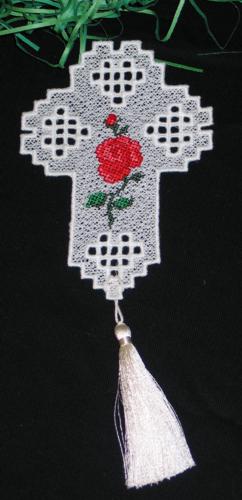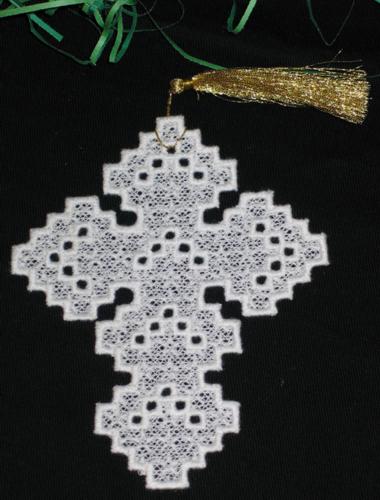 The FSL designs can be also stitched onto fabric. For example, to make this doily we embroidered one of the cross designs sixteen times and stitched them onto the white linen 20" x 20" piece.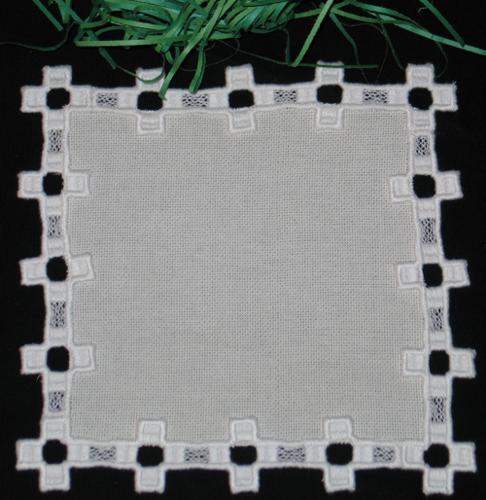 Press all parts with steam. Thread a needle with the same thread that you used for the embroidery and zigzag the parts together into a lace frame.
On your working table, lay the frame on your fabric. Either baste or pin it in place. Using short but NOT dense zigzag, stitch along the inner edge of the lace frame to secure it in place.
Using a sharp pair of scissors, cut away the excess fabric from under the lace.
Return to your machine and using a very dense zigzag, of the same width as the lace edge, stitch along the edge of the fabric. Continue to use the same thread with which you embroidered the designs.
If you liked this hardanger set, you might also like:
Back to Hardanger Cross Set