Flannel Shawls
These cosy flannel shawls are quick and easy to make. Roomy pockets can hold eyeglasses, tissues, a pocketbook or your cell phone.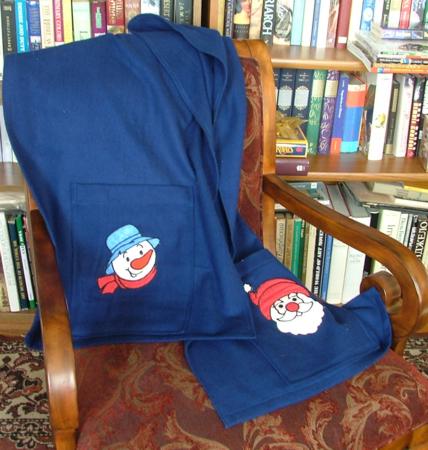 The finished size of each shawl is 78" x 21". The pockets are 12" x 9". We used plain royal blue cotton flannel 60" wide. Fleece is also a suitable material for the project.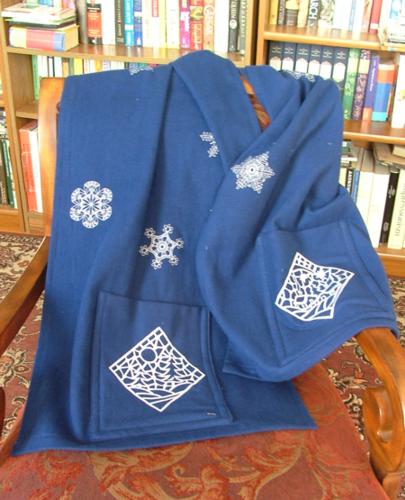 Cutting out
For the shawl, cut out a rectangle measuring 81" x 24". For the pockets, cut out two rectangles measuring 14" x 10".
Embroidering
Step One: Embroider the large rectangles with the FSL Crochet Snowflakes. When embroidering the designs on fabric, use either rayon or polyester 40-weight embroidery threads. (When making FSL with these designs, use cotton threads). Both flannel and fleece do not need a stabilizer with these designs. However, we strongly recommend to make a test stitch-out first.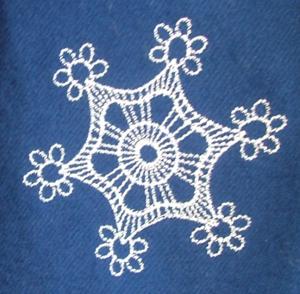 Step Two: Make embroidery on the pockets. One of the shawls features the Snowman and Santa Claus applique designs. We did not use a stabilizer for the applique.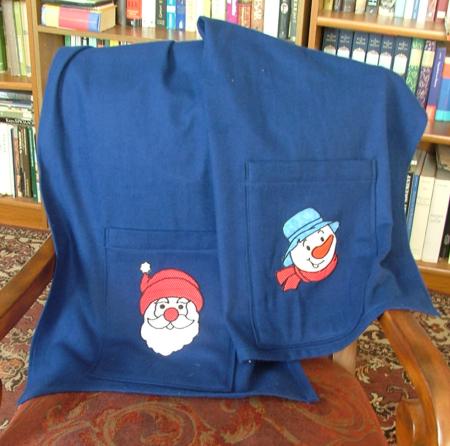 The second shawl features the Christmas Eve Lace and Fir-Trees in Snow for the large hoop.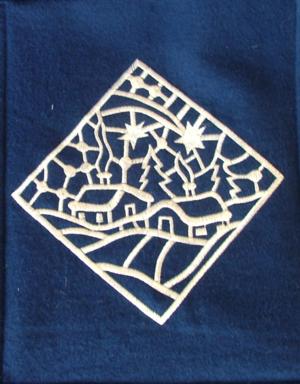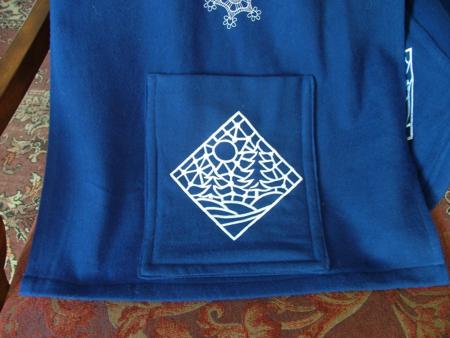 Sewing
Step One: Finish the raw edges of the shawl. We just turned the edges of the shawl 1/2", pressed, turned the edges another 1", pressed and topstitched.
Step Two: Finish the raw edges of the pockets. We finished the raw edges of the pockets with zigzag, then turned 1/2", pressed, pressed the upper edge 1" and pressed again. We topstitched the upper edges of the pockets.
Step Three: Stitch the pockets to the ends of the shawl.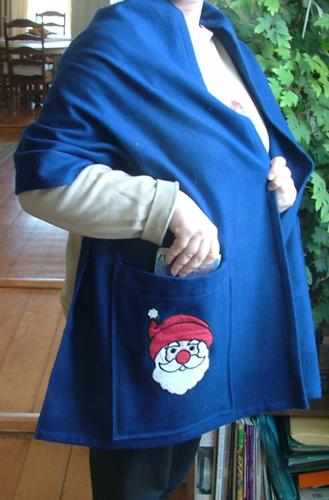 The shawls are ready. Enjoy!
Back to Projects Page