Past Times Silhouettes Projects
We prepared several projects with the Past Time Silhouettes and think that they can make a wonderful gift for those with a taste for the antique.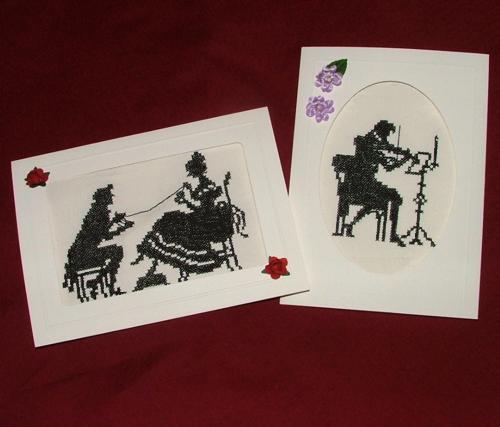 These are some greeting cards that we made.
Wall Hanging

This wall-hanging was made in the style of an old-fashioned bell-pull.
The finished size of the wall hanging is about 10" x 33".
We used a piece of white duck cloth measuring about 10" x 32" for the embroidery, a piece of toile fabric measuring about 34" x 23" for the base, a piece of thin polyester batting measuring about 11" x 33" , about 80" of twisted welting with tape and a metal hanger for embroidery.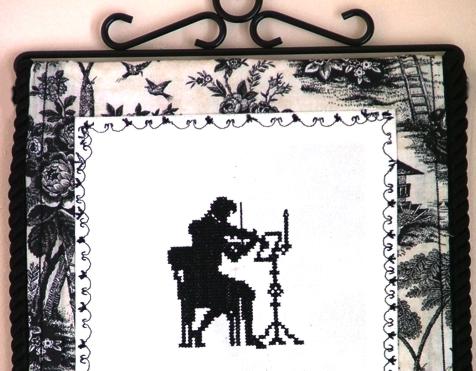 Step One: Embroider the designs on white fabric. You can make the silhouettes of any color to match the color of your toile fabric. We recommend you use medium-weight iron-on tear-away stabilizer and 30-weight embroidery thread. Put this piece aside for a while.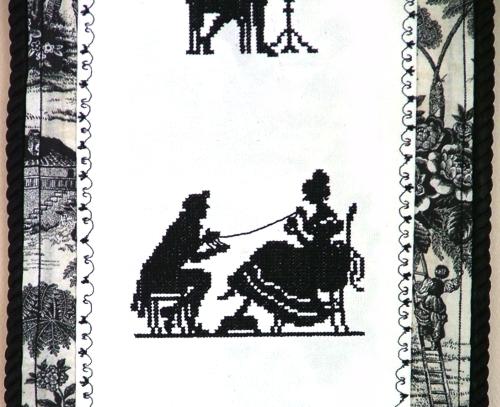 Step Two: Out of toile fabric, cut two pieces 11" wide and 33" long. Out of the batting, cut one piece 11" wide and 33" long.
Step Three: On a working table, place the batting, cover it with the first toile piece, face up, and cover it with the second toile piece, face down. Align the edges and pin all three layers together.
With a removable marker, draw a curve that rounds off the two lower corners. Cut along the marked line.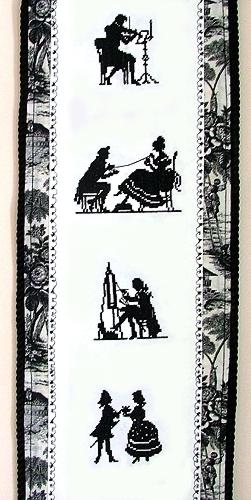 Step Four: If you are using welting, take the top piece of toile and place the welting around the edges, except the upper edge. Pin or baste in place. Cover with the toile piece, face down. Baste or pin all layers.
Machine-stitch through all the layers, leaving the upper edge open. Use a zipper foot.
Step Five: Turn the working piece inside-out. Press with steam. Quilt. Press again.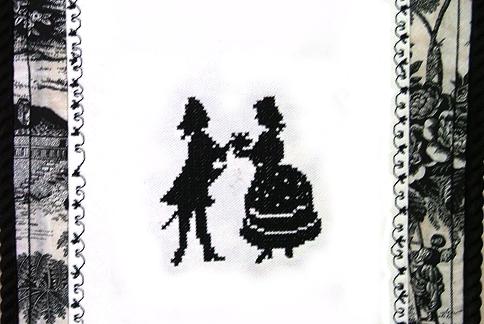 Step Six: Finish the raw edge with zigzag. Fold it about 1 1/2" - 2" back and machine-stitch into place.
Step Seven: Take the embroidered piece. Fold the edges 1/2" back. Press with steam. Place the embroidered piece over the quilted piece. Pin, then machine-stitch into place along the edges. You can use a decorative stitch from your machine.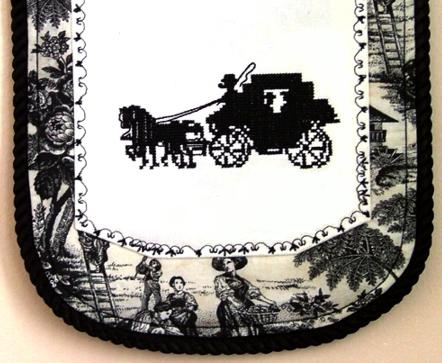 Insert the hanger into the upper fold.
The wall hanging is ready.
We hope that you liked our idea.
Back to Past Time Silhouettes page
Back to Projects Page