Purse with South-Western Indian Embroidery
This small purse is ideal for keeping a wallet, a cell phone, keys or cosmetic items. The designs used are South-Western Indian Motif Set.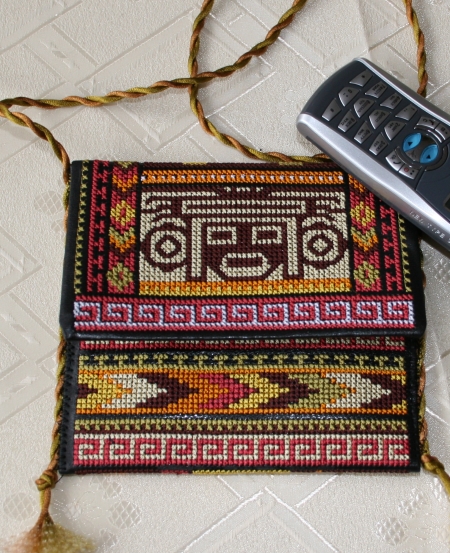 The front of the purse with the flap closed.
The finished size of the purse is about 5" x 4.5". You will need a piece of thin leather, leatherette, suede, polyester suede, or mole-skin fabric for the top; the same fabric, cotton or polyester silk for the lining; and a cord for the handle.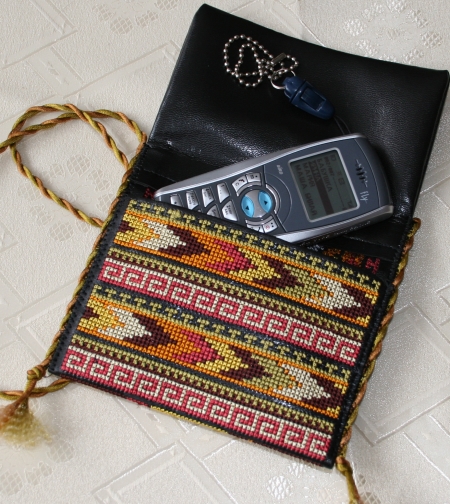 The front of the purse with open flap.
Step One: Stabilize your material with an iron-on tear-away stabilizer. Cross-stitch is a very dense kind of embroidery and it pulls on the fabric vigorously, so be sure to stabilize and hoop the material very tightly.
Make the embroidery. Those who have a Mega hoop (about 6" x 10") can make the embroidery without re-hooping; those who have a large hoop (5" x 7") will have to either re-hoop the embroidery, or make it on different pieces and then stitch the pieces together. Trim all jump stitches after every color!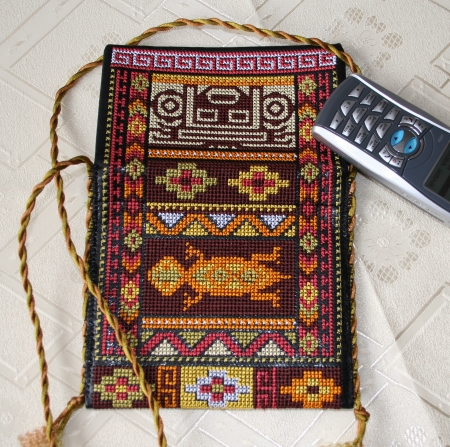 The back of the purse, flap open.
Step Two: Trim the embroidered piece leaving about 3/4"-1" around the embroidery. Measure the piece and cut out a piece of the same size out of the material you're going to use for lining.
Step Three: Place the embroidered piece on a table, face up, and cover with the lining, face down. Pin the edges and machine-stitch 1/4" from the embroidery. Stitch along the long sides and one of the short sides, leaving one short side open.
Step Four: Turn the purse inside out. Fold the seam allowance of the open edge inside, leaving about 1/4" around the embroidery. Machine-stitch to close the opening.
Step Five: Fold the working piece up onto the lining to form a pocket. Secure with pins. Machine-stitch the sides together. Place the cord along the sides and zigzag it to catch the sides of the bag and the cord.
It's also possible to make a bigger purse, and even a tote, if you embroider the parts several times and then sew them together.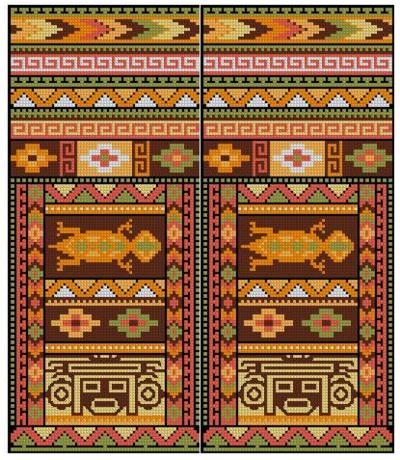 We hope that you like this project and come up with many ideas of your own!
Back to South-Western Indian Motif Set.
Back to Projects Page