Thank You Wall Hanging with Machine Embroidery
We made this small quilt to say Thank You to all the doctors and staff at the local Animal Hospital who treated and cured one of our dogs, Duke, a Great Pyrenees. We used the design Great Pyrenees from our Dog Breeds section and one of the designs from the Animal Paw Applique Set. The finished size of the wall hanging is about 29" x 29".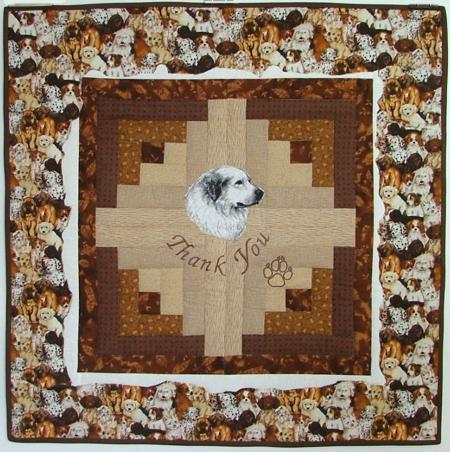 The top is made out of four log cabin blocks and two borders. We used 7 fabrics for the blocks: three light and four darks. The first border is a narrow, 2 1/2" white strip. The second, wide border, is made from puppy-patterned fabric, which we cut out to have an uneven edge. For the binding we used one of the dark brown fabrics.
This quilt is made in the same way as our Birthday Quilt; see Steps One through Four.
The difference is in attaching the wide border. Instead of cutting straight, we cut the fabric to preserve the puppies' outlines. Then we appliqued the wide border over the narrow white border.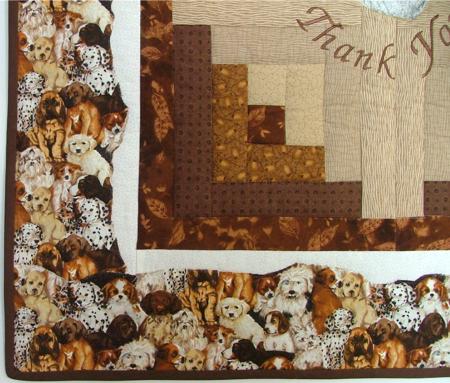 Step Five: When your top is ready, stabilize it with your favourite tear-away stabilizer and do the embroidery. Remove the excess stabilizer. Press.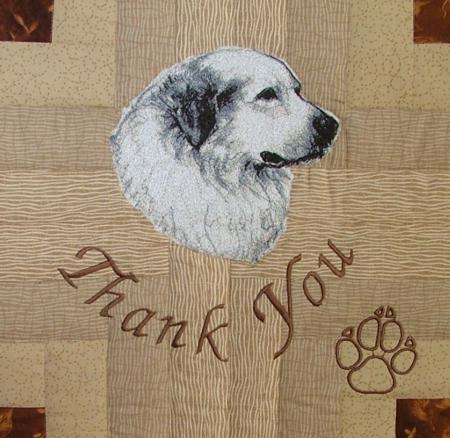 Step Six: On an even surface (table) spread the backing fabric, face down, cover it with batting and cover with the quilt top. Baste or pin all three layers together. If you pin, use 1" pins every 3".
Quilt, starting from the center of the quilt.
We used stippling around the embroidery and all over the blocks. The patterned borders were quilted around the puppies.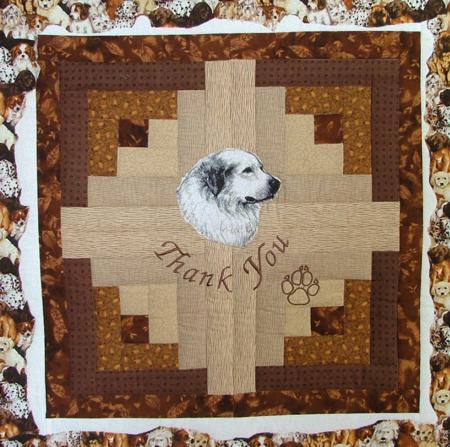 Step Seven: Press with heavy steam. Square all corners and even the edges. Finish the raw edges with binding.
Step Eight: Add a sleeve to the back, through which you can slide a pole.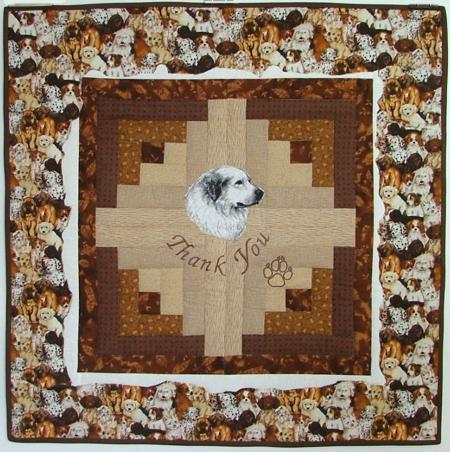 The wall hanging is ready. Enjoy!
Back to Projects Page