FSL Crochet Flower Motif Set
The FSL Crochet Flower Motif Set consists of 2 machine embroidery designs. The embroidered motifs can be used as coasters, window decorations, or assembled into doilies and tabletoppers.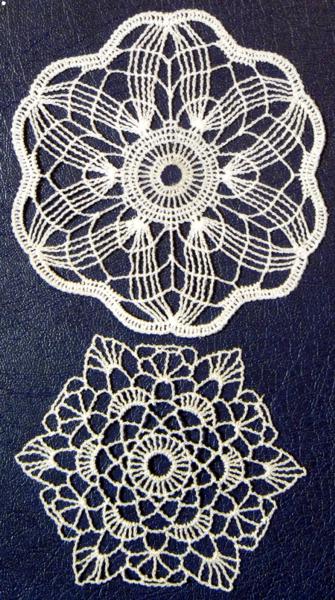 Test Stitch-Out of the Designs
Most Importantly: ALWAYS make a test stitch-out of a design. This helps you select the threads, needles, stabilizers and settings of your machine correctly.
The crochet lace is embroidered in accordance with the General Guidelines and Step-by-Step Guide to Embroidering our Crochet-Style FSL designs. Please read the guide, because you might find it helpful.
Some points to remember from the General Guidelines:
Use Vilene water soluble mesh stabilizer;
Use cotton thread and clean your machine after every design;
Use the same thread in the needle and bobbin.
DO NOT embroider several designs in one hoop.
Make sure you use a sharp needle. Embroidery 12/80 size needle is suitable in most cases. However we noticed that cotton threads in special metalic needles, which have a larger eye and a groove to reduce friction of the metallic thread, usually give less lint than with embroidery needles.
Note: The thinner the thread the finer the final product will be. 60- weight cotton gives fine light lace; 40-weight cotton gives heavy lace with the look of hand-made crocheted lace.
Embroider only one part of the lace. Make sure that there are no problems in the stitch-out. If you're satisfied with the results, you can proceed. If there are problems - missing stitches, loops, etc. you should re-read the General Guidelines and Step-by-Step Guide to Embroidering our Crochet-Style FSL designs and make sure you did everything correctly.
Table Linen with Crochet Flower Motifs
Several designs can be assembled into larger table sets - the size is limited only by your wish and your patience.
On the diagrams below, you can see two simple doilies. To make them, you will need to embroider each motif 7 times following the above instructions.
The patterns are assembled into larger formations manually. Use the same thread with which you made the embroidery and connect the motifs in the places marked red on the diagram.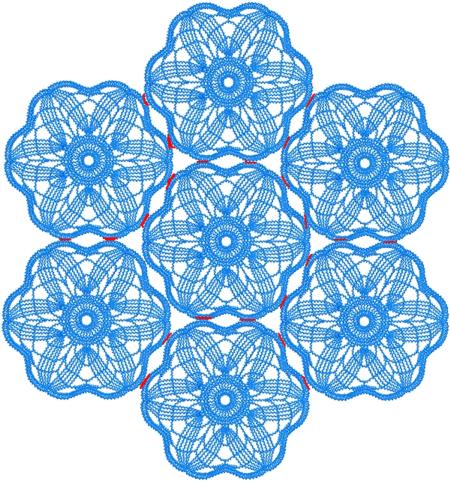 To make larger table linen, add more rounds of the motifs.
Happy embroidering!
Back to the FSL Crochet Flower Motif Set