Quilted Rose Place Mats
The quilted Rose place mats feature the Duchess de Brabant Tea Rose in all 3 color schemes. They look very elegant and are great for special occasions. They also make great gifts.
The finished size of the placemats is about 19 1/2" x 13 1/2".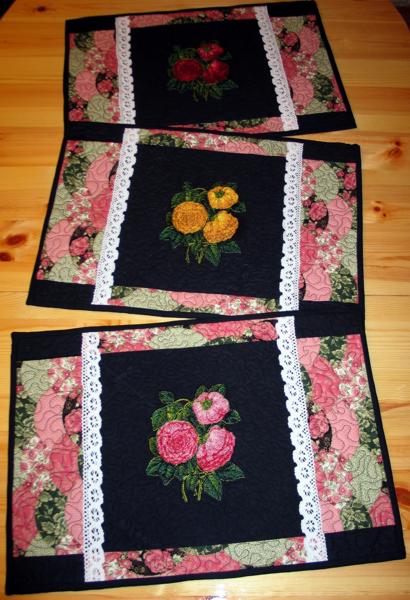 For the project you will need: 1 yard of black fabric, 1/2 yard of patterned fabric, batting and fabric for the backing.
Use size 12/80 embroidery needle. For further embellishing we used about 2 yards of lace.
Cutting:
Out of black fabric cut a rectangle measuring 10 1/2" x 11 1/2",
4 strips measuring 2" x 4 1/2".
For the binding cut strips 2 1/2" wide and the length of the width of the fabric.
Out of patterned fabric cut 2 strips measuring 4 1/2" x 10 1/2" and
2 strips measuring 2" x 11 1/2"
Assembly:
Sew the patterned strips measuring 2" x 11 1/2" to the lower and upper edges of the black rectangle.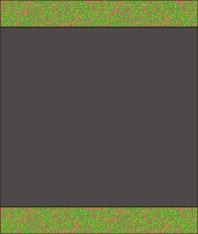 Sew the 2" x 4 1/2" black strips to the short sides of the 4 1/2" x 10 1/2" patterned strips.

Sew these two new strips to the left and right sides of the central part.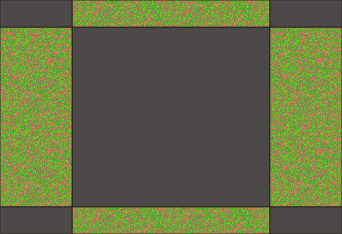 Embroidery:
Embroider the Duchess de Brabant Tea Rose. Use cut-away iron-on stabilizer. Cut away the excess stabilizer.
You can also use polyester craft felt instead of the stabilizer. After the embroidery is finished, cut away the excess felt around the embroidery.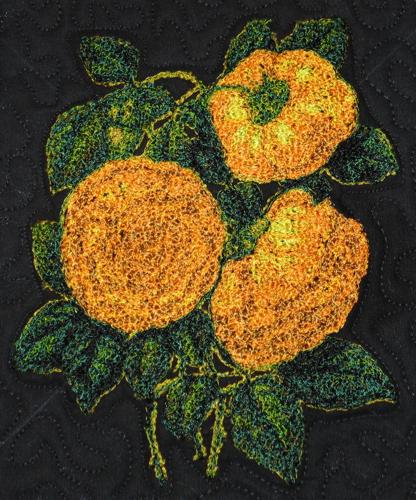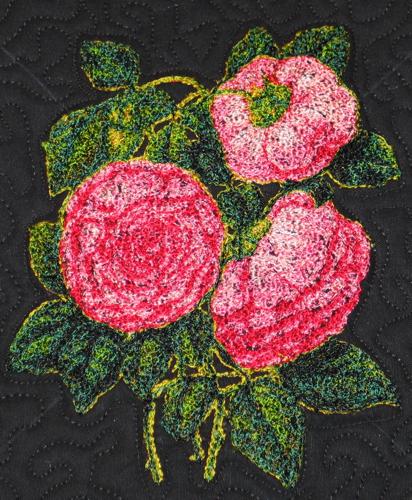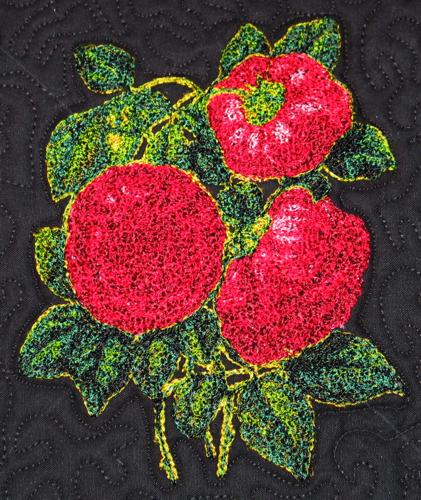 Quilting:
Now place the backing on a flat surface (table) face down. Cover with batting. Spread your working piece over it.
Pin all three layers together with 1" pins and start quilting. We quilted along the lines of the embroidery and then made stippling all over the mats.
After the quilting is finished, press the work with heavy steam and square the work -- all corners should be 90 degrees and opposite sides should be of the same length.
We further embellished the mats with strips of lace. Topstitch the lace over the mat.
Finish the raw edges with the binding.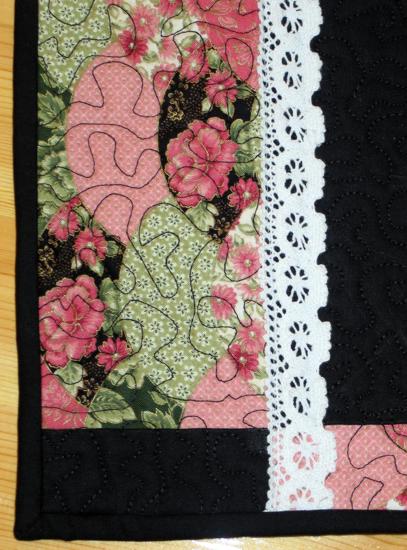 The mats are ready. Enjoy!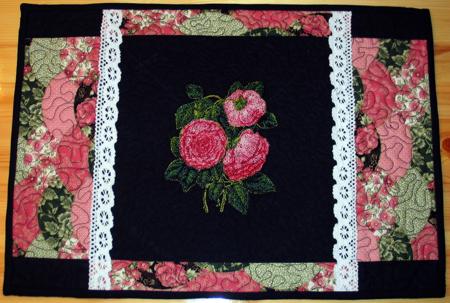 Happy Stitching!
Back to Duchesse de Brabant Tea Rose
Back to the Projects Page