This small and cute quilt features designs from the Poppy Set and lettering from our embroidery machine.

The finished size of the quilt is about 13" x 15". You can make it a little bit smaller or larger, if you like.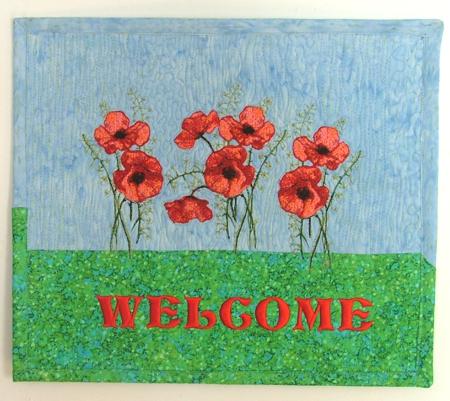 For the project you will need a strip of light blue fabric for the upper part (9" x 19"),and a strip of green fabric (9" x 19") for the lower part. The extra length and width is needed for easy hooping.

Use the same blue and green fabrics for the binding.

You will also need fabric for backing and a piece of low-loft polyester batting or craft felt.
Sewing the Top
Sew the strips together along the long edge. Seam alowance is 1/4". Unfold and press the seam to the green strip.
Embroidering:
Place the quilt top on a piece low-loft polyester batting or craft felt.

Mark the position of the flowers on the blue part of the quilt. Embroider them one by one starting with the central design.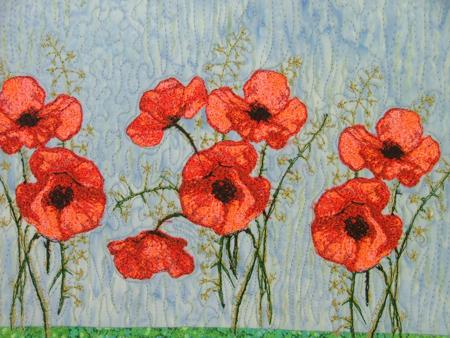 On the green part, embroider the "Welcome" using letters from your embroidery machine.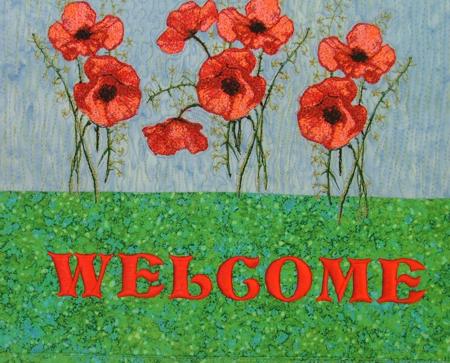 Quilting:
Press the working piece. Place the backing on a flat surface (table) face down. Spread your working piece over it.

Pin all three layers together with 1" pins and start quilting. We quilted along the lines of the embroidery and then in free motion style all over the piece.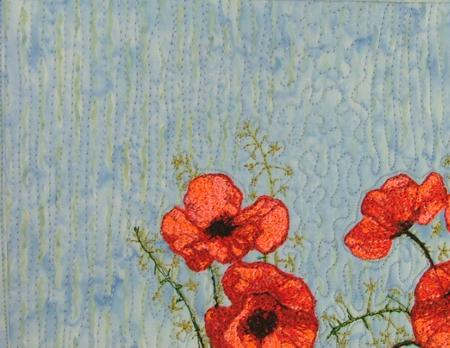 After the quilting is finished, press the work with heavy steam, trim it to the needed size. Then square the work -- all corners should be 90 degrees and opposite sides should be of the same length.

Finish the raw edges with the binding.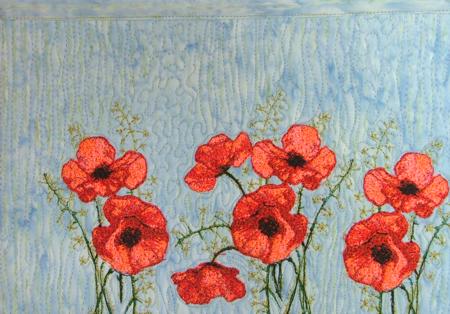 The welcome sign is ready. Enjoy!
Happy Stitching!
Back to the Poppy Set
Back to the Projects Page