Step-by-Step Guide to Creating Cutwork
Cutwork lace is very versatile and has a large variety of uses, from decorating linen and clothes to creating doilies and coasters.
Fabrics: Firm, tightly woven fabrics which do not fray easily are essential for cutwork.
Stabilizers: You will also need wash-away, or water-soluble stabilizers.
We recommend to use water-soluble mesh, such as Vilene. Vilene D0102 is a non woven dissolvable stabilizer which is imported into the US, is sold in large rolls and is sometimes repackaged under different brand names. Some of these brand names are Fabri-Solvy by Sulky, Wash-Away, and Aqua Magic.
Film-like water soluble stabilizers, such as Solvy by Sulky or Avalon by Madeira, are not good for the cutwork projects.
Threads: We recommend to use either polyester or rayon embroidery threads.
Needles: We used 80/12 embroidery needles. You can use thinner needles if you use fine fabric.
To test our quality and your skills try this free design: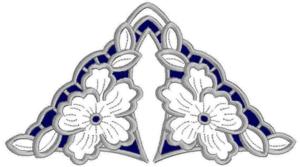 Size: 179/100 mm,
Stitches: 13038
Colors: 2
Click to download a zip file containing the corresponding format: