Quilted Fall-themed Table Topper
This simple but charming Fall-themed table topper is easy to sew, and the small surface makes it simple to quilt. We used the designs from the Vines and Acorns Set and the design of Acorns for a large (5" x 7") hoop.
The finished size is about 25" x 25" .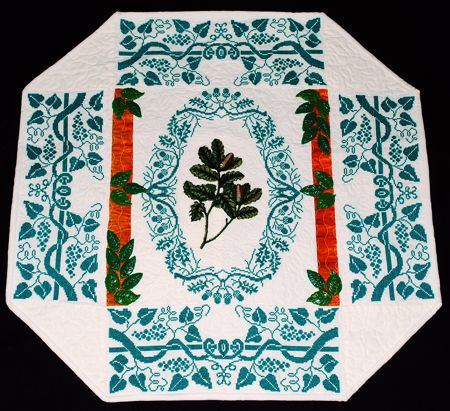 You will need: about 1 yard of white or light cream fabric, and 2 strips of "fall-colored" fabric measuring 1 1/2" x 14 1/2". You will also need batting and backing.
For embroidery, we used embroidery polyester threads, and medium-weight tear-away stabilizer.
Embroidery
Stabilize white fabric with tear-away stabilizer. Embroider the Acorns and Vines File 1 and its mirror image.
Using a ruler and a rotary cutter, cut out the embroidered pieces, leaving 1/4" on the side where the designs should be connected, and 1" on the upper and lower edges. Do not cut the fourth, short, side yet.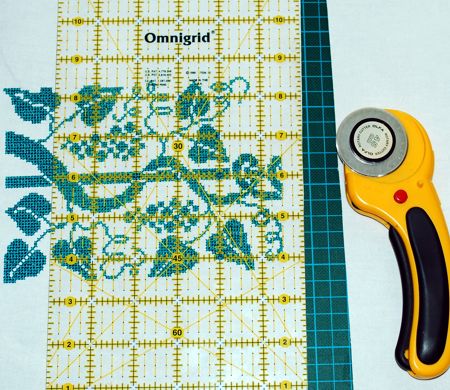 Place the pieces face to face and align the three sides. Stitch together the short side, 1/4" from the edge.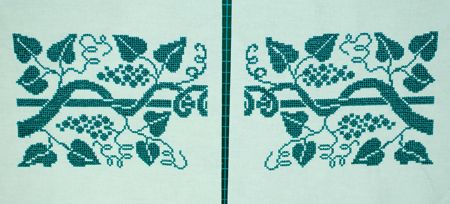 Press the seam open.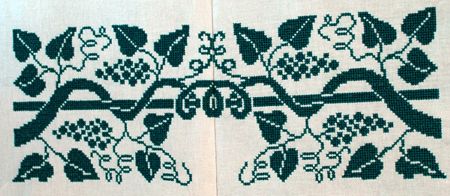 Trim the working piece to 7" wide and 14 1/2" long. Make 4 such units.
Embroider the Acorns and Vines File 2 times and its mirror image 2 times.
Trim the sides where the embroidery should be connected to 1/4".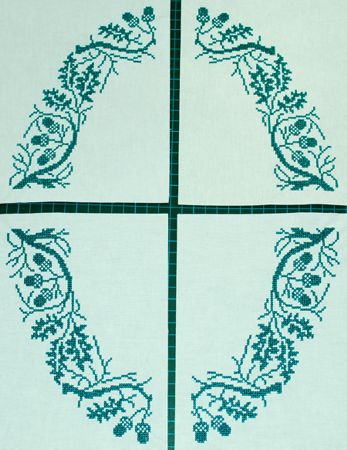 Sew the upper two quarters and the lower 2 quarters into 2 halves.
Sew the upper and the lowers halves into one piece.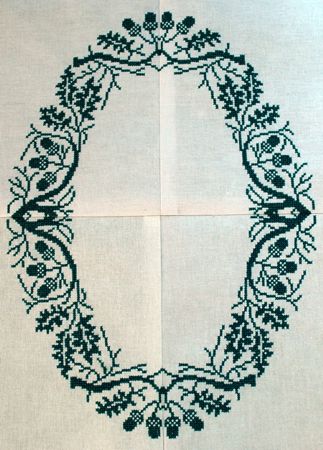 Trim the piece to 12 1/2" wide and 14 1/2" long.
Cutting:
Out of the remaining white fabric cut 4 squares measuring 7" x 7".
Out of a non-white fabric (we used orange) cut 2 strips measuring 1 1/2" x 14 1/2".
Assembling the Top
Sew the white squares to the left and right sides of 2 of the vine strips.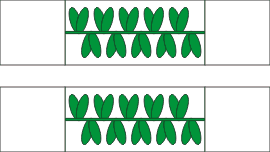 Sew the "fall-colored" strips to the left and right sides of the central panel.

Sew the remaining vine strips to the left and right sides of the central panel.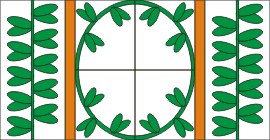 Sew the vine rows to the upper and lower edges of the piece.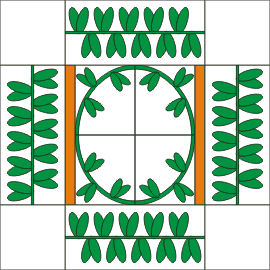 Embroidery:
Stabilize the central part and embroider the Acorns design in the center of the table topper.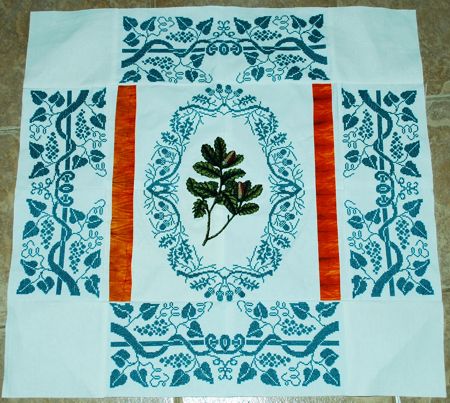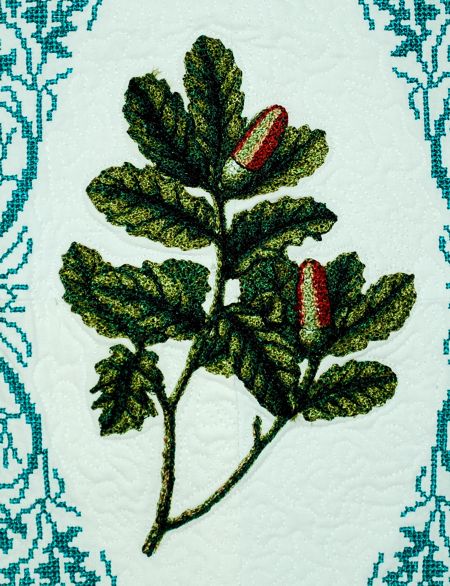 Quilting:
Now place the backing on a flat surface (table) face down. Cover with batting. Spread your working piece over it.
Pin all three layers together with 1" pins and start quilting. We quilted around the embroidery and made stippling all over the quilt.
After the quilting is finished, press the work with heavy steam and trim the work. Place a ruler by diagonal of the white squares and cut with the rotary cutter.
Finish the raw edges with the binding.
You can use the quilt either as a tablerunner or as a wall hanging.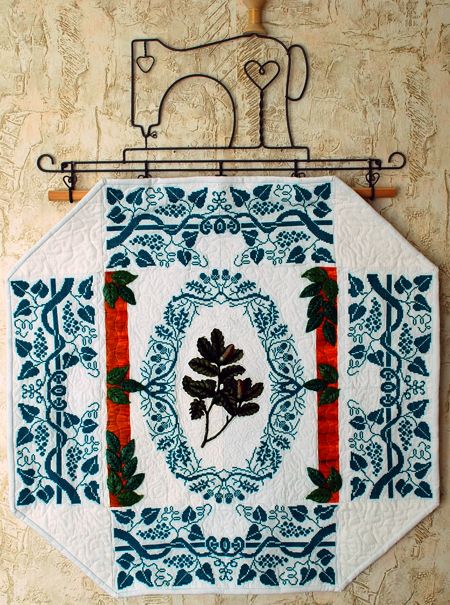 We also decorated the quilt with leaf-shaped buttons.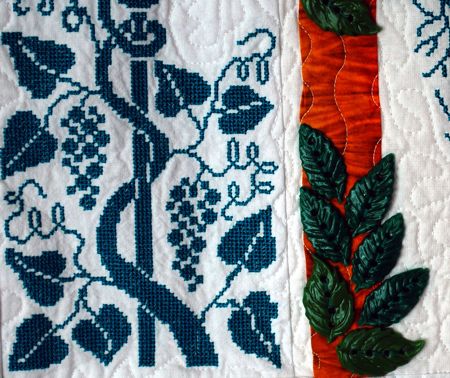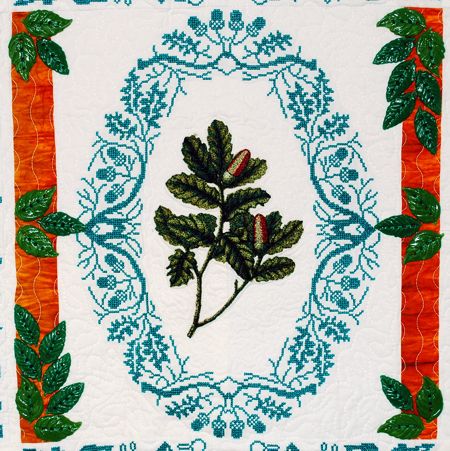 Enjoy!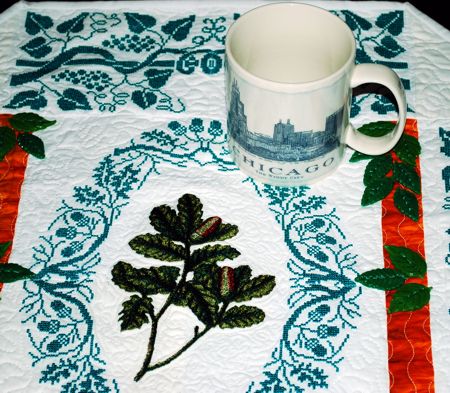 Happy Stitching!
Back to Vines and Acorns Set or Acorns
Back to Projects Page